Kodak EasyShare M1093 IS
Favourable features floored by fiddle factor
Review "EasyShare" is a lovely name, isn't it? It's all soft and cuddly and suggests that your camera is friendly little thing that will let you share your images with all and sundry. Well, top marks to Kodak's marketing bods for the name, but does the EasyShare M1093 IS deliver in terms of features, performance and ease of use?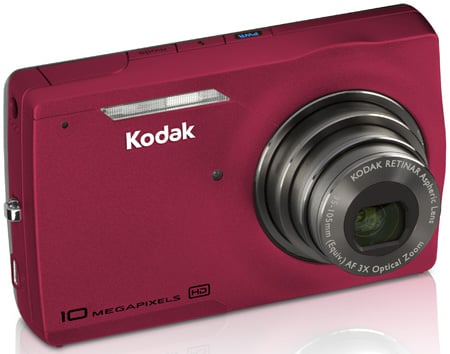 Kodak's EasyShare M1093 IS: available in black, red and silver
At less than £128, and even cheaper if you shop around, the EasyShare M1093 IS is aimed squarely at the budget end of the market but, despite its relatively modest price, the camera has one or two surprising features for a model at this price point.
In terms of appearance, the EasyShare M1093 IS a neat looking camera. Our review sample came in matt black, although there are also silver and grey options. It has a very sleek design, with hardly any protruding buttons or switches. On the top - and flush with the body - are the power switch, flash mode button, shutter button and mode select button with choice of smart capture, video, program and scenes.
That said, the shutter is so well camouflaged (black on black) that you have to look hard to spot it. At the back is the 3in LCD composed of 230,000 pixels, and on the right, a zoom switch, playback button, display mode, joystick control, plus delete and share buttons. On the right are exposed DC-in and mini USB ports, and on the bottom, a dock connector and a flap covering a lithium-ion battery and SD/SDHC card slot. Incidentally, the EasyShare M1093 IS comes with 21MB of useable internal memory.
The EasyShare M1093 IS is a compact model, measuring 95.2 x 58.5 x 21.4mm, and weighing 150g on our scales, when loaded with battery and card. it offers a 1/2.3-inch CCD with 10.1Mp (effective), 3x optical zoom equivalent to 35-105mm on a 35mm camera, shutter speed range of 8-1/1448 sec, ISO range 64-3200 with a 6400 ISO option if the picture size is 3.1Mp or less. Image resolution ranges from 3648 x 2736 to 1280 x 960.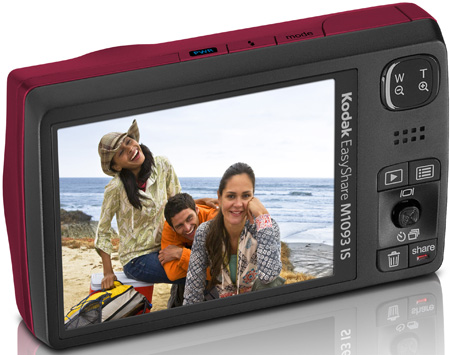 Picture perfect? At this price, the image quality leaves little to complain about
The camera also features image stabilisation, face detection, 22 scene modes, such as portrait, landscape and panorama, a burst mode offering a maximum of 3 pictures at 1.5fps, and surprisingly for a camera at this price point, HD movie recording. HD capture is a QuickTime MPEG-4 video at 1280 x 720 resolution and running at 30fps. VGA and QVGA modes are also available at 30fps.