This article is more than 1 year old
Sony Bravia KDL-37S5500
Sony's 'cheap' 37in Full HD telly
If that's not enough, Sony also offers a model called the 37V5500, which has a fourth HDMI interface and Dolby Digital audio output, all for an extra £100. Add another £100 on top of that and you can get the 37W5500, which steps up to a 100Hz refresh rate too – though you're obviously no longer in 'entry-level land' once you go over the £1000 mark.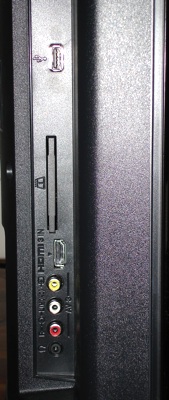 Extra, more handy, connectors on the side
We did get off to a slightly rocky start with the KDL-37S5500. It was easy enough to lift the unit out of its box, slide it onto the separate base unit and then screw the two together. However, we were somewhat alarmed to see that the manual also suggests that you actually screw the base of the set into the body of whatever piece of furniture you rest the TV on - and then tie it in place with a 'strong cord' in order to prevent the TV from toppling over. We rather thought that was the whole point of the base unit in the first place – not to mention the fact that there's no way we're screwing holes in our expensive Habitat TV stand.
To add insult to injury, Sony even tells you to supply your own screw and cord.
Then, when we turned the TV on for the first time, we weren't presented with the 'auto start-up' menu that was indicated in the manual. This was meant to ask for basic information such as our location and preferred language and then automatically start scanning for channels with the tuner.
Unfortunately, this menu didn't appear, and we weren't able to figure out the next step from the instructions in the manual or from randomly thumping buttons on the remote control. In the end it took a – thankfully brief – call to Sony's tech support team before we were able to get the set to scan for digital Freeview channels.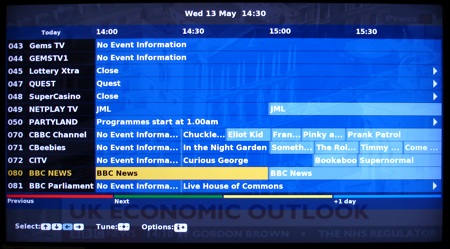 A decent EPG
Fortunately, things picked up after that. The image quality was very good – the colour balance seemed just right, being bright and strong without edging into over-saturation. The 33000:1 contrast ratio isn't the highest we've ever seen, but it was sufficient to produce nice crisp blacks on the HD DVD version of Batman Begins.
SD content looks as good as it ever does on a 1080p screen.