This article is more than 1 year old
Sony Bravia KDL-37S5500
Sony's 'cheap' 37in Full HD telly
The only thing we didn't like here was the big grey banner containing programme information that fills the upper third of the screen for about five seconds every time you switch channels using the digital TV tuner.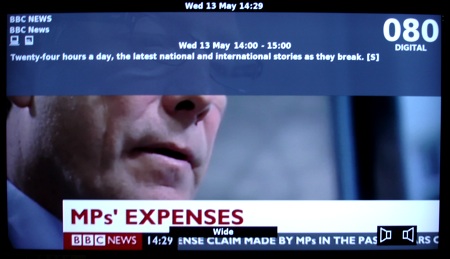 Irritating channel info banner
Audio quality is perfectly respectable too – nothing particularly outstanding, but the built-in stereo speakers (2x 10W) produce a good solid sound that worked well with the music library we keep on the Mac Mini. We also liked the ability to adjust treble, bass and balance using the on-screen controls.
The remote control was relatively straightforward, but had a few buttons that came in particularlt handy. There's an option to quickly switch the TV tuner from the current input source straight back to the TV tuner, and an electronic programme guide for digital channels. The 'Format' button allows you to quickly adjust the aspect ratio, while the 'Scene' button adjusts the image settings for sports programmes, movies, games or even photo slideshows.
The KDL-37S5500 also has a number of 'eco' options tucked inside the on-screen Tools menu. We like the option to save power by turning off the picture and just listening to the audio, but the main power-saving option isn't explained properly at all. The manual simply refers to a "Reduce" option that reduces the power consumption from the standard 113W – but doesn't tell you how great this reduction is, nor does it indicate how this option might affect the image quality.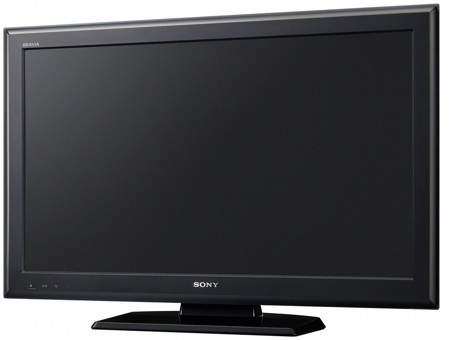 Power saver
We attempted to get some sort of figure for the power-saving option from Sony but they have – so far at least – been unable to respond, which doesn't say much for the importance they attach to the TV's green credentials.
Verdict
The KDL-37S5500 does have its rough edges, and it's by no means the cheapest 37in Full HD set on the market. However, it's a solid entry-level set that provides a good set of features and the image quality and build quality that you'd expect from a big-name brand such as Sony. Home cinema buffs might prefer something a little more up-market, but the KDL-37S5500 is a good choice for the ordinary Joe who simply wants a good quality HD TV for less than a grand. ®
More HD TV Reviews...
| | | | |
| --- | --- | --- | --- |
| Toshiba Regza DV556DB | Philips Ambilight 42PFL9803H/10 | Samsung LE40A786 | Hitachi UT32MH70 |

Sony Bravia KDL-37S5500
A good entry into HD TV for the first-time buyer