This article is more than 1 year old
Russians offer hackintosh netbook
Desktops, laptops too, tovarisch
Want an Asus Eee PC 1000H to run Mac OS X? New Russian hackintosh supplier RussianMac is now offering just that.
It's not clear whether the Atom-based netbook - or, indeed, any of the other desktop and mobile systems RussianMac is offering - comes with the Apple operating system pre-installed or you have to do it yourself, from a legit, boxed copy of the OS, using a supplied utility.
Either way, RussianMac claims the install will be proof against Apple software updates, which usually break regular hackintosh installations.
Says the company: "We have designed and implemented a special method to make the computers fully compatible with Mac OS X." The company guarantees that all the components - Bluetooth, Wi-Fi, video, webcam etc - will work and that the OS will be stable.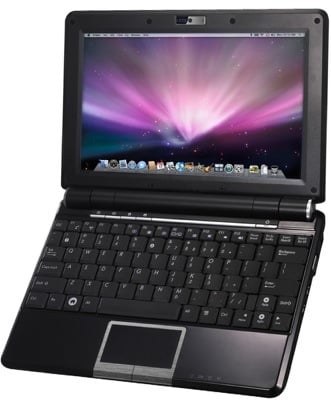 RussianMac's Asus Eee-based hackintosh netbook
How it can make this guarantee, it's not saying. And it didn't mention that fact that Apple's Mac OS X End-User Licence Agreement - rightly or wrongly - forbids the installation of the operating system on hardware from anyone other than the Mac maker itself.
That's one reason why Apple's suing US-based hackintosh seller Psystar. It also claims Psystar has infringed its intellectual property rights. In return, Psystar alleges Apple is abusing its position in the market.
Will Apple take a pop at RussianMac? It's possible, but it will have a much harder time convincing a Russian court than it will one in the US.
RussianMac's website say the comapny wants €19,200 for the OS X-equipped, a price that only vaguely makes sense if the price is actually in Rubles rather than Euro, in which case it comes to £387/$613/€440.
The company only appears to be shipping to buyers in Russia. ®