This article is more than 1 year old
Sony eyes smile, smirk-controlled music phone
Grin for pop, gurn for death metal
Do you weep during Eric Clapton's Tears in Heaven or grin from ear-to-ear when your hear The Monkees? If so then you should be using a device that changes tracks according to your facial expressions, at least according to Sony Ericsson.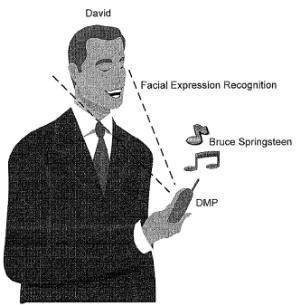 Sony Ericsson's expressions tech: could replace the need for buttons
The firm's applied to patent a technology for a technique called "generating playlist based on facial expression" to select tracks according to whether you're smiling, frowning or weeping.
SE's idea appears to be based around automatic playlist compilation. For example, if the camera thinks that you're happy then it'll rifle through your music library to select similarly upbeat songs.
SE's existing SenseMe technology might help. It scans a song's musical content using something called 12 Tone Analysis and LCMIR (Low-Complexity Music Information Retrieval) to group your tunes into ten playlist categories, such as Extreme, Classical and Electronic.
We can see a few potential niggles with the technology, though. What if you're in an upbeat mood but suddenly trip while walking down the street? Would your track types suddenly change in response? What if you're really upset? Selecting tearjerker songs because you're wearing a frown wouldn't be very helpful.
SE's idea sounds pretty wacky, but we can't wait to get your hands, sorry, faces on it if it ever does get implemented into a phone. ®