This article is more than 1 year old
Atlantis homecoming delayed again
Pesky Florida weather
Space shuttle Atlantis will land tomorrow following the second postponement of its homecoming due to bad weather.
NASA explained that "the weather did not permit a Kennedy landing today". Capsule Communicator Greg Johnson elaborated: "There's a chance for a landing at Kennedy [space center] tomorrow, and we're going to keep that option open. Edwards [air force base, California] remains good for tomorrow and Monday, if needed."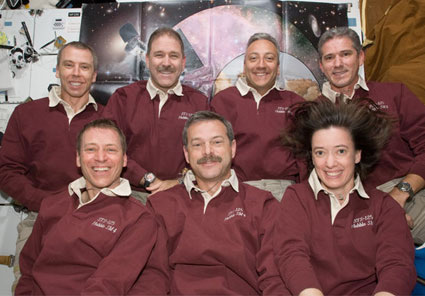 During five space walks, the Atlantis crew (pictured front row L-R Pilot Gregory C. Johnson, Commander Scott Altman and Mission Specialist Megan McArthur, back row L-R mission specialists Andrew Feustel, John Grunsfeld, Mike Massimino and Michael Good) installed the new Wide Field Camera 3 and Cosmic Origins Spectrograph, replaced the troublesome Science Instrument Command and Data Handling Unit, gyros and nickel-hydrogen battery units, and repaired the Space Telescope Imaging Spectrograph and the Advanced Camera for Surveys.
All being well, the venerable eye in the sky is now in good shape to continue working until at least 2014. ®