This article is more than 1 year old
Atlantis safely back to Earth
Hubble mission ends at Edwards AFB
Space shuttle Atlantis today landed at Edwards Air Force Base at the end of its successful final servicing mission to the Hubble Space Telescope.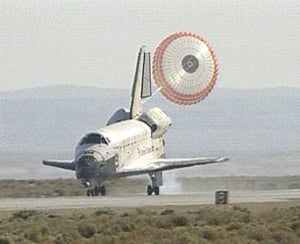 The spacecraft touched down at 15:39 GMT. It was due to return Friday, but inclement weather forced NASA to twice postpone the homecoming. The first possible landing at Kennedy was also "waved off" earlier today, once again because of "poor weather conditions", and NASA elected to put Atlantis down at Edwards.
During five space walks, the shuittle's crew installed the new Wide Field Camera 3 and Cosmic Origins Spectrograph, replaced the troublesome Science Instrument Command and Data Handling Unit, gyros and nickel-hydrogen battery units, and repaired the Space Telescope Imaging Spectrograph and the Advanced Camera for Surveys.
All being well, the venerable eye in the sky is now in good shape to continue working until at least 2014. ®