A 12-year-old girl from Kansas has chosen the name of NASA's nuclear-powered Mars Science Laboratory rover.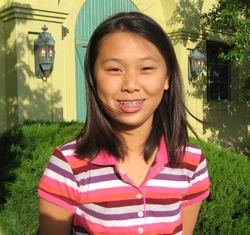 Image courtesy NASA/JPL-Caltech
Clara Ma, an elementary student from Lenexa, Kansas, submitted the winning entry, "Curiosity" for the space agency's nationwide essay contest for youths to name the rover. Her suggestion was selected from more than 9,000 proposals, NASA announced today.
"Curiosity is an everlasting flame that burns in everyone's mind. It makes me get out of bed in the morning and wonder what surprises life will throw at me that day," Ma wrote in her essay. "Curiosity is such a powerful force. Without it, we wouldn't be who we are today. Curiosity is the passion that drives us through our everyday lives. We have become explorers and scientists with our need to ask questions and to wonder."
NASA program executive in Washington DC Mark Dahl said he is especially pleased with the name because it recognizes something universally human and essential to science.
The naming contest was pitched to US students aged between five and 18 through a partnership with Disney-Pixar and its computer generated robot flick WALL-E.
As her prize, Ma wins a trip to NASA's Jet Propulsion Laboratory in Pasadena, California, where she'll get to sign her name on the rover. Nine finalists will get to provide messages in a microchip mounted on Curiosity. The rest of us can enter our name to the rover microchip here.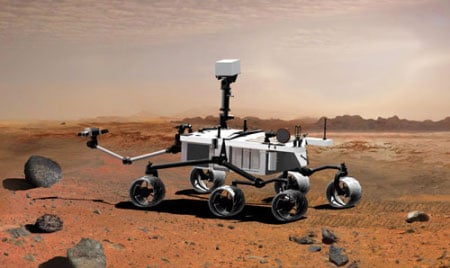 Artist's concept of Curiosity in action, courtesy NASA
"We have been eager to call the rover by name," said Pete Theisinger, who helms the JPL team building and testing Curiosity. "Giving it a name worthy of this mission's quest means a lot to the people working on it."
Ma said she's very interested in space, but thought it was something she could only read about in books and look at in the night sky from far away. "I thought that I would never be able to get close to it, so for me, naming the Mars rover would at least be one step closer," she said.
The SUV-sized rover will scout for Martian water in hopes of finding signs of a habitable environment, or even life, in the Red Planet's history. Curiosity will snoop about the terrain for nearly two Earth years before its plutonium battery runs out of juice.
The oft-delayed project was already running 30 per cent over its approved $1.63bn budget in December 2008, and is currently expected to cost more than $2.2bn over its lifetime. NASA is now aiming to send Curiosity to mars in 2011.
Martian-killing Bootnote
Curiosity's predecessors on Mars may have accidentally cooked the life forms they were searching for. Oops.
Boffins at NASA's Johnson Space Center in Houston have proposed in a new study the reason why the Phoenix and Viking landers failed detect even a merest trace of organic compounds on the Red Planet could have been due to accidental vaporization.
The results, reported by New Scientist, show the Martian soil is choke-full of a class of chemicals called perchlorates. When subjected to a few hundred degrees Celsius, perchlorates release lots of oxygen, which causes nearby materials to burn.
As it happens, the Phoenix and Viking landers scoured for organic compounds by heating soil samples at extremely high temperatures to analyze materials in gas form.
When the scientists tried heating organics and similar perchlorates Earth-side, they found the resulting combustion left no traces of the organics behind.
So there still may be proof of life on Mars after all. It just turns out melting the natives isn't the best way to establish contact. ®
Similar topics