The addition of the hard drive improves the fast forward and rewind functionality since, once the file has been cached, the EVA9150 is accessing the local copy rather than pulling it across the network at high speed.

The hard drive is encased in a removable caddy and can easily be upgraded
Hit the power button and by default the machine will go into standby mode, which keeps the disc spinning and network access alive, so you can drag and drop files onto it without waking it up. It'll be ready for action in about ten seconds in this mode. Alternatively, you can set it to power down more fully - either when you press the off button or after a period of inactivity - which saves juice, but it'll take around a minute to start up from this state.
In addition to playing back content stored on your network, the EVA9150 can also pull in files from the Internet. Full YouTube access requires the PC software to be running, but most of the functionality is available in standalone mode too. As the unit now uses the high quality YouTube video by default, the results aren't bad. You can also access video RSS feeds and the content is cached to the hard drive, so playback is pretty good.
The remote control has also received an overhaul and feels more sturdy and robust than the previous incarnation and it now doubles as a universal remote control for up to three other devices.
The biggest problem with the EVA9150 is its price tag - at £380 it's an expensive piece of kit. It's considerably more than the EVA8000, which had an asking price of £220 when it was introduced and can now be picked up to around £160, if you know where to look online.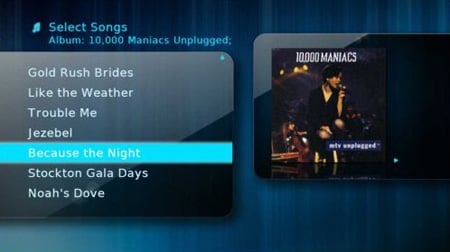 Media selection is swifter after indexing
The market has also moved on significantly since the launch of the EVA8000. Back then if you wanted to watch 1080p material you either needed a dedicated Blu-ray or HD DVD (remember them?) player or a pretty powerful PC. 1080p from a standalone streamer was unheard of. Now you've got devices such as Popcorn Hour's A-110 which bundles full HD playback and even a 500GB hard drive for around £250.