This article is more than 1 year old
Summer debut for Judge Dredd computer smart-rifle
Exploding wireless mini-shell ammo hits round corners
US Army officials have announced that the high-tech XM-25 computer smartgun, intended to let soldiers shoot at and hit enemies hiding around corners, will enter field trials this summer. The "counter defilade" gun, similar in size to existing infantry weapons, is expected to reduce the number of controversial airstrikes used in Afghanistan and Iraq.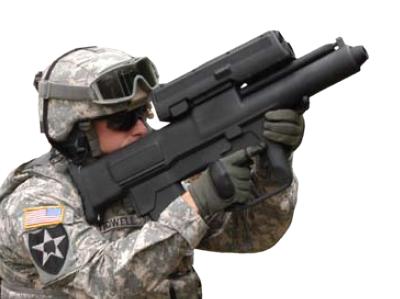 Your trench has become your grave.
Regular Reg readers will already be familiar with the XM-25 and its unique ability to strike at enemy gunmen or snipers who are protected by roof edges, corners, rock outcrops, trenches etc. This is accomplished by using a laser rangefinder to precisely measure the distance to the enemy's protection (for instance a low wall). The XM-25 smartgunner then selects how much nearer or further from that location he thinks the target is - for an enemy behind a normal wall, the soldier would choose +1 metre. If the soldier had lased the back of a room or cave through an opening, he might choose -1 or -2 metres.
Then the XM-25's computer calculates the exact angle the weapon's barrel should be elevated to in order to lob a 25mm explosive mini-shell through the selected point in space, and generates a new pipper in the gunsight accordingly. The soldier moves the pip onto his or her original point of aim, so adjusting the gunbarrel to the correct angle.
The shell in the XM-25's breech gets its electronic time fuse precisely set by a wireless transmission from the smartgun computer at the instant it is fired. It flies out on the calculated ballistic arc and explodes exactly in the chosen spot - above the head of an enemy in a trench or on a rooftop, right next to one lurking around a corner, dead in the middle of a room etc. The miniature explosive warhead sprays the target(s) with shrapnel.
Rich Audette, the US Army official in charge of the XM-25, described the weapon's usefulness in a briefing last week.
"In Iraq we had many instances where there was a sniper firing from a rooftop and you have a squad trying to engage that target, but the soldiers couldn't get to him with the weapons they had, so they'd call in the Air Force to drop a JDAM [joint direct attack munition - a smart bomb]," he said. "We can take out the target at $25 per XM round as opposed to a $20,000 to $50,000 JDAM."
Quite apart from saving money, less smartbombs dropped would also be a good thing in terms of winning the propaganda war - particularly in Afghanistan at the moment, where US and allied airstrikes are believed to be killing large numbers of innocent civilians.