This article is more than 1 year old
Microsoft announces Zune HD
In North America only, as usual
Recent rumours that Microsoft has been secretly working on a new Zune Portable Media Player (PMP) were true, because the firm's officially unveiled the range's latest model.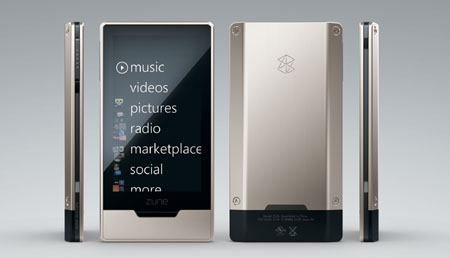 Microsoft's Zune HD: 3.3in OLED screen, "HD Radio" and Wi-Fi
Called, as expected, Zune HD, the player's described as "the next iteration of the Zune device family". It promises to bring "a new level of listening and viewing experiences" to the PMP category.
Built around a 480 x 272, 3.3in OLED screen with 16:9 aspect ratio, Zune HD features an integrated "HD Radio receiver" that supposedly enables you to listen to higher quality sound than traditional portable radio devices offer.
The player has an integrated HDMI port that'll let you connect it into your HD-ready telly, but Microsoft admits that the best resolution you'll get is 720p. A Zune HD docking station is sold separately.
Microsoft has equipped the Zune HD with Wi-Fi compatibility, so you'll be able to use the player's multi-touch screen to navigate your way around the internet. It's keeping mum on the specifics of the gadget's "full-featured web browser" for now, but said it'll provide iPhone style tap-to-zoom functionality and a virtual Qwerty keyboard.
An accelerometer's been integrated too, so porting the player between landscape and horizontal screen display modes will be possible.
Storage capacity options are yet to be announced, but the bad news – and you knew this was coming – is that Zune HD will, for the time being, only be available in North America this autumn. ®