Google Oz coders crossbreed email with IM
Maps brothers ride Wave
---
Google I/O Google has unveiled a new-age communication and collaboration tool developed by the brother tandem behind the original Google Maps.
Available today to a limited number of developers, the tool is called Google Wave, and naturally it's an online application that leans heavily on the still-gestating HTML 5 standard.
"This is an unbelievable demonstration of what is possible in the browser," Google VP of engineering Vic Gundotra said in announcing the tool this morning at the company's I/O developer conference in downtown San Francisco. "You will forget you are looking at a browser."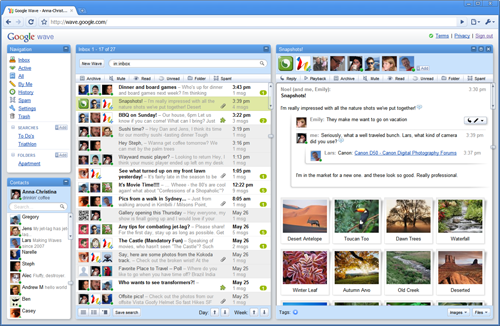 Google emailimdocumentsharer
The tool crossbreeds email with IM and document-sharing in a way that allows for threaded conversations between multiple users. You can respond to email-like messages with IM-like chatter - and vice versa. You can also include photos, videos, maps, and the like, dropping them into conversation threads in real time. And if you like, you can embedded threads - or "waves," as Google insists on calling them - into blogs, wikis, and other webpages.
Lars and Jens Rasmussen joined Google in 2004, after the company gobbled their tiny online mapping startup, Where 2 Tech. But after releasing Google Maps, they left the project to start a new app code-named Walkabout. After more than two years of work in Google's Sydney Chocolate Factory, they've released a preview version of their browser-based thingamajig to the four thousand or so developers attending Google I/O.
"We need developers to help us complete this product," Gundotra said.
The preview was built in Java with the Google Web Toolkit, and though it's billed as an HTML 5 app, its photo drag-and-drop tool - demonstrated to developer applause this morning - requires Google Gears. Google, however, said that it's working to standardize the hooks behind this photo swap.
In addition to the service itself, Google has fashioned a set of APIs for adding "waves" to other web services, and a Wave protocol for communication between such services. During a demo this morning, Lars Rasmussen couldn't help but show off how his team has integrated the tool with Twitter, and he hopes that someone will build similar gateways to Facebook, email clients, IM clients, and more.
To encourage use of the protocol, Google intends to open-source "the lion's share" of Wave's code, but the company did not say when. This would also allow anyone to build their own Wave app. "The reason email was so successful was that it was an open protocol," Lars Rasmussen said.
Google expects to release the app to world+dog before the end of the year. The app will live here. The APIs live here. And the protocol draft is here. ®