This article is more than 1 year old
Nokia's Ovi store mostly unavailable and empty
App Store killer in slo-mo suicide?
It's been two days since Nokia's Ovi application store opened for business, and we had hoped to bring you some recommended apps by now, but Ovi's shelves are still very empty as Nokia's openness could yet prove Ovi's downfall.
While the web-based store has been bouncing up and down we have had success in using the on-device client, and if one has the latest handset and decent connectivity then the experience is remarkably good. Unfortunately for Nokia, many users lack both those things and Ovi is already acquiring a reputation for being unusable and bereft of any content worth having.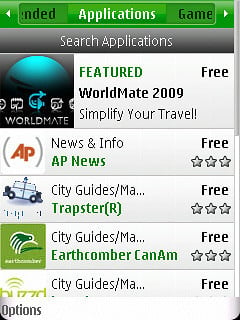 The Ovi Store at its best
Nokia's problem is that, unlike Apple, users can download content from anywhere, so killer applications such as Google Mobile Maps aren't available through Ovi - and won't be until Google decides the store has the exclusive attention of viewers. Combine that with reports of developers having trouble getting their apps listed and one finds that most of our favourite S60 applications - including Slick IM, LCG Media Player, StyleTap and even Nokia's Sports Tracker - can't be found in Ovi.
But what you can find is stuff that won't appear in the iTunes application store - such as Skype clients that work over 3G connections, and a multitude of e-mail and SMS applications, not to mention tools for silently recording every phone conversation you make or receive - assuming your handset supports such things.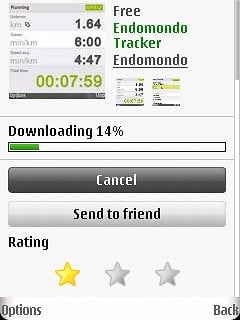 When it works, it works well
Which is where things start to get complicated: we tested the Ovi client on a Nokia N96 and found the experience to be very comparable with iTunes on an iPhone. We attached over wi-fi, and had to enter a username and password, but then browsed, downloaded and installed free applications from within the Ovi application without difficulty. The first time we downloaded a paid application we had to re-enter our password, and an SMS message was sent to the handset to confirm our identity - but we didn't have to see that, it was intercepted by the Ovi client which then downloaded and installed the application without further interruption.
But compare that with the experience of someone using a Nokia E71, who has to download a 3.5MB Ovi client (which was much, much, smaller for the N96) and then reboot his handset before discovering that the store takes 20 seconds to boot up and is almost unbearably slow to navigate.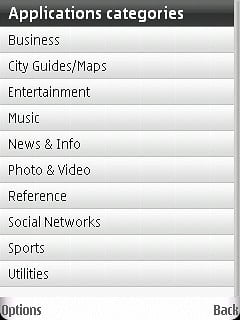 Browse by category, hidden in the options menu
Selecting apps from the web site isn't any better, with customers having to log on, enter all their details and then have a hyperlink sent to their phone which requires them to repeat the whole log-on procedure and authorise the download (twice!) before they can run through the standard S60 installation procedure.
When it comes to competing with iTunes, Nokia has two significant problems - they have to support a range of handsets, and they don't have integrated desktop software. Ovi on the web loses much of it's integration and drops back to the complicated and cumbersome process that mobile software used to be before Apple showed how good the experience could be. But it's the web experience on which Ovi is being judged, and unless that can be radically improved, Ovi might never attract the support it needs to take on the chaps from Cupertino. ®