This article is more than 1 year old
Clickfree Traveler SSD
Credit card-sized, no-brainer backup
Review The Clickfree concept is to provide effortless file backups for people who want hassle-free security from data loss. Yet the original Clickfree Portable drive received a mixed reception from Reg Hardware readers, comparing it unfavourably with 'regular' USB hard drives. The latest incarnation is a little different and relies on an SSD for storage. It's intended for backing up laptops and netbooks on the move and is considerably more compact than the Portable.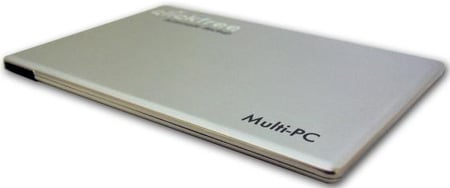 Clickfree's Traveler: SSD with a difference
The Clickfree Traveler has the same footprint as a credit card and a 3.5mm thick, brushed aluminium case. It feels solid enough and weighs just 12g, so could easily be carried in a wallet. There are three capacities: 16GB, 32GB and 64GB, but none of them are cheap, ranging from £80 to £200.
Connection is made via a swing-out, flexible PCB arm, complete with a skeleton USB plug on the end. The Traveler is light enough to hang from the arm, so doesn't normally need an extension cable – with a laptop, it should be able to rest on the desktop beside. A pin-head, white LED set into the USB plug flashes to show data transfer.
Clickfree works like this. You plug the drive into a USB socket on any Windows 2000 or later PC or on an Intel Mac running OSX 10.5 or above. There are no Linux drivers we're aware of. The Clickfree back-up software runs automatically from the drive and backs up everything in My Documents, as well as pst email files, jpgs, tifs, wavs, mp3s, wma and wmv. In other words, most of the things you'd typically want to secure.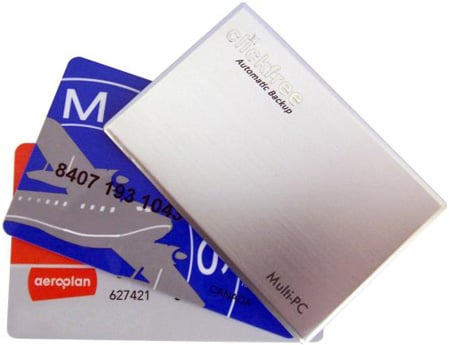 Your inflexible friend
It does this without any intervention, completely automatically and secures them in a folder specific to the computer it's copying from. Space permitting, it can do this for up to 10 different machines, and on subsequent backups, it recognises the machine and incrementally backs up any additions to the same folder. If you're satisfied with the default file-set it backs up, you don't need to make any setting changes and the process really is plug and go.