This article is more than 1 year old
Aliph Jawbone Prime Bluetooth headset
Is wind a problem during conversation..?
Review Last year Reg Hardware ran the first UK review of Jawbone II, the second Bluetooth headset from Aliph. This wasn't just another gizmo for hands-free phone calls, it looked better than the rest, was easier to set up and reliable too. It also featured effective noise-cancelling characteristics, based around technology developed in conjunction with an American military agency. If it's good enough to use in a battlefield, then it's good enough to report, 'I'm on the bus'.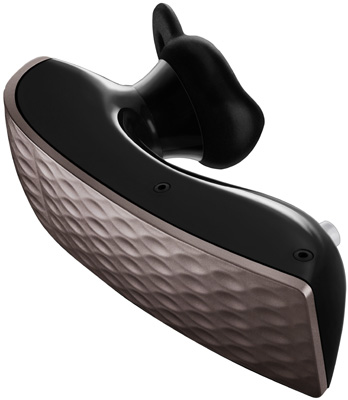 Aliph's Jawbone Prime: keeps you talking when wind breaks
Even though it was a big step forward from the first in the series – it was smaller and lighter than its predecessor – the Jawbone II wasn't perfect. Wind was a problem – no, not that kind – and is a factor the new Jawbone Prime has been designed to suppress.
Since its inception, the Aliph Jawbone has featured a Voice Activity Sensor (VAS) at the front of the headset. Sensitive to low frequencies, it presses against your cheek and monitors vibrations to detect when you're talking, automatically activating noise-cancelling when needed.
The headset also features two electret microphones that interact with the VAS using NoiseAssasin processing to minimise background noise and to adjust the earpiece volume to match ambient noise. It's an effective system that ensures the Jawbone wearer doesn't even need to raise their voice.
While the first model, which was big and relatively heavy, held the sensor to the cheekbone by a sprung earclip, last year's Jawbone II was too small and light for this to work. So the headset didn't stay in place reliably, often compromising the noise-cancellation capabilities. And since the second version was wearable with or without the earclip – without is handy if you're wearing specs – this soon emerged as a problem.

Ergobuds come as standard
In response to these issues, Aliph devised an ergonomic earbud, which successfully positioned the device in place, and these earbuds are still available for Jawbone II users. For the Prime, though, the ergobuds come as standard, in three sizes and there's also an earclip, if you prefer. The Prime also features the Acoustic Voice Activity Detector (AVAD), a software solution to the positioning problems, just in case the sensor doesn't touch your face.