Sir Richard Branson's space-tourism operation, Virgin Galactic, has announced successful tests of the rocket motor it will use to launch fare-paying passengers out of the Earth's atmosphere. Unusually, the rocket runs on laughing gas and tyre rubber.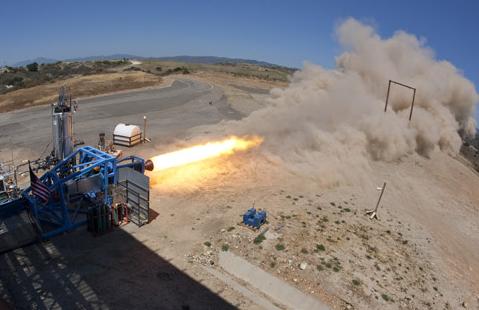 Burn the tyres and light the fires.
The engine, which will boost the company's SpaceShipTwo rocketplanes to heights of 65 miles after releasing from "Virgin MotherShip" (aka WhiteKnightTwo) piggyback jets high in the stratosphere, is now said to have completed the "first phase" of ground testing in southern California. It is being made by the famous firm Scaled Composites, builder of the Ansari X-Prize winning SpaceShipOne, in partnership with subcontractor SNC.
"We are reaching and passing many important and historic milestones," said Branson, commenting on the tests. "SpaceShipTwo is largely constructed and awaiting the start of its test flight programme later this year."
The rocket is an unusual "hybrid" type, lying somewhere between solid- and liquid-fuelled designs. It burns solid hydroxy-terminated polybutadiene (HTPB) fuel - possibly with proprietary additives - using liquefied nitrous oxide gas as an oxidiser. Unlike a normal solid-fuel rocket, the hybrid can be throttled or turned off by regulating the flow of oxidiser; conventional solids, once lit, will burn until all their fuel is gone. The ability to cut thrust in the event of a problem is seen as a useful safety feature.
Branson is keen to cast the SpaceShipTwo rocket in an environmentally-friendly light.
"Less fuel and clean fuel all add up to a space launch system which will be completely unprecedented in its low environmental impact compared with current space flight," enthused the beardy biz kingpin.
"The spaceship's carbon footprint for each of its passengers and crew will be about a quarter of that for a return trip from London to New York, demonstrating again the extraordinary benefits that new technology can bring to the quest for clean transportation."
As SpaceShipTwo essentially works by burning car tyres in a jet of laughing gas*, some might doubt just how clean the hybrid rocket technology actually is. But in fact the exhaust products aren't particularly nasty compared to normal solid rockets - Branson's suborbital barnstormers will emit water vapour, carbon monoxide and nitrogen in addition to CO2. They won't burn for long, either, so "less fuel" is a fair claim.
However, the reason the rocket needs only a short burn is that much of the lifting work is done by the four-engined, airliner-sized "mothership" piggyback plane (which burns ordinary jet fuel - and is carefully not included in Sir Richard's quarter-of-a-transatlantic-flight claim).
All that said, Virgin Galactic plans to operate just two motherships and a handful of rocketplanes. Its eco burden will be only a tiny fraction of that resulting from Branson's normal airline, Virgin Atlantic.
Those willing to put up with Flash can view a company vid of the tests on the Virgin Galactic site. It also features Luke Colby, "propulsion engineer technical lead", who is one of the relatively few modern-day rocket boffins who habitually wear pith helmets at work. Or possibly he's just been standing around the oxidiser tanks a bit too much. ®
Bootnote
*HTPB is a common ingredient in motor tyres. Nitrous oxide gas is also, of course, used as a medical and dental anaesthetic - with the well-known giggly side-effect.
Similar topics