Educators seem to have decided that chemistry is unteachable, and our children are too stupid to learn it. Perhaps it's just as well that a hit TV drama has done so much to raise the profile of the subject.
If you're in the UK, chances are you haven't seen Breaking Bad, which ends its second series on cable channel AMC in the US on Sunday night. Only a few thousand subscribers can pick up the show here on FX. But it's as good as anything US TV has produced - and right up there with The Sopranos or The Wire.
"A passionless chemistry teacher learns he has terminal cancer and turns to a life of crime to provide for his wife and handicapped son," is how FX describes it. The teacher, Walter White, uses his chemistry expertise to produce crystal meth - of a quality never seen before. (This isn't giving away too much of the plot - so tight is the writing, you learn all that in the first 15 minutes.)
He then finds himself compelled to obey the logic of the criminal economy - one which he finds repellent. He's a sitting target for the professional criminal operators, but time and again, Walter uses his rationality and chemistry know-how to survive and outwit his antagonists.
(For example, there's a quite spectacular deployment of Hg(ONC)2.)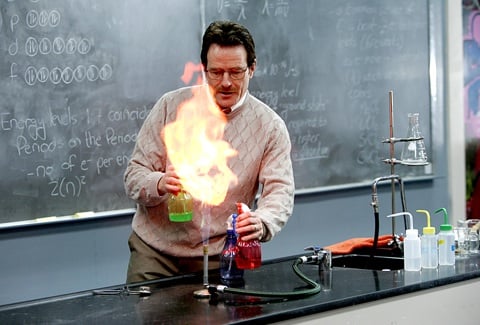 You can do a lot with chemicals
We asked The Royal Chemistry Society, which campaigns to highlight scientific illiteracy and lousy education, for a view. (See Score 18%, pass a science exam and What powers a solar-powered snail, kids? for examples.)
We received quite a diplomatic response, considering they hadn't seen the show.
"It would be wrong to condone the actions or moral stance of the protagonist, despite his impulses to solve family problems," said a spokesman. "But if, from the way that the tale unfolds, chemistry itself emerges as a cool subject, then there may be benefits to its image. We here at the RSC, and thousands of chemical scientists and students, already think chemistry is pretty cool."
Here's a show with the perfect profile to be a huge cult British hit - black humour, suspense, all the stuff we love. But what's puzzling is how the British public broadcasters dropped the ball by failing to notice the show - particularly the BBC.
BBC Four preferred to overboard on Mad Men, but this is narrowcasting aimed at the media classes. Then again, it took the Beeb five years to notice The Wire.
A third series of BB is promised, but it would almost be a pity to see it. Breaking Bad doesn't have the large ensemble cast needed to sustain a long-running show, and doesn't really need it - a lot of the suspense comes from the claustrophobia of Walt's suburban Albuquerque.
You can find the first series of the DVD on Amazon in NTSC format here; I guess you'll know where to find the others.
Go on, treat yourself. ®
Andrew warmly welcomes your comments.