Weaponry globocorp Raytheon has announced the inking of a $12m deal with the US Army, under which the firm and its subcontractors will demonstrate nifty networked smart-map computers for use by American footsoldiers in combat. Troops will be able to see enemies and each other on the digital maps even where GPS satnav is unavailable.
The new kit is known as "Ground Soldier Ensemble" (GSE).
"GSE will provide decisive tactical awareness to the infantry soldier through real-time display of networked battlefield information ... finally linking the most important element, the dismounted soldier [to the battlefield network]" said Glynn Raymer, Raytheon war-net veep.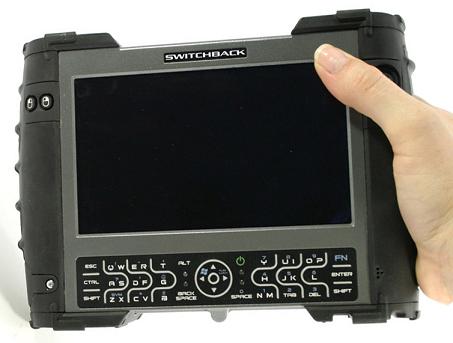 Insert your Blue Screen of Death gag here.
Raytheon's GSE contender will be based on the SwitchBack rugged computer from Black Diamond Advanced Technology. The standard SwitchBack is built around a 1 GHz Celeron processor, has up to 2 GB of DDR RAM and comes with Windows XP (though Vista or Linux are available as options). There are the usual bells and whistles: spinning hard drive or SSD for ultimate toughness, Bluetooth, WiFi, GPS satnav etc.
The SwitchBack's main special sauce is the eponymous swappable "BackPack" modules which users can attach to the back of the machine. These can feature a mixture of extra ports and connectors, as well as peripherals such as cameras, magnetic stripe readers, barcode scanners, RFID, biometrics and "custom communications".
The box is heavily ruggedised to withstand being dropped on concrete from three or four feet, immersion in water, baking heat etc. It weighs three pounds.
Similar topics