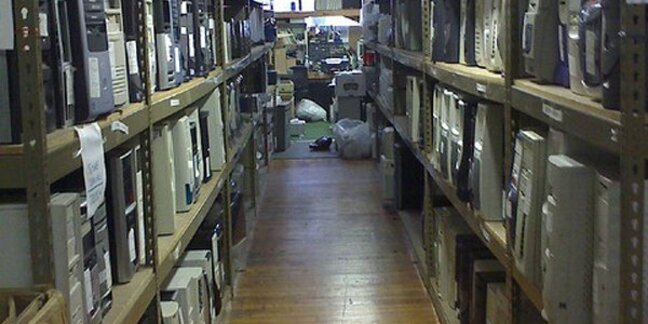 Ingram Micro has told customers to be on the lookout for laptops stolen in a recent raid on its Belgian warehouse, and pointedly warned them that it plans legal action against those who fail to report offers of hooky kit.
In an ALL CAPS email yesterday, the super distributor's legal department said a "large quantity" of HP Pavillions, HP 6830S Core 2 Duos and Sony Vaios had been taken last weekend.
It provided a list of serial numbers in an attachment and said:
THE STOLEN PRODUCTS HAVE THE SERIAL NUMBERS AS DETAILED IN THE ATTACHMENT AND WE EXPECT THAT THESE PRODUCTS WILL BE OFFERED FOR SALE VIA ALTERNATIVE CHANNELS. AS SUCH, YOU MAY RECEIVE OFFERS TO BUY THESE PRODUCTS FROM BROKERS OR OTHER ALTERNATIVE SALES CHANNELS AND IT IS POSSIBLE THAT THESE PRODUCTS WILL BE OFFERED AT ABNORMALLY REDUCED PRICES.

WE REQUEST THAT YOU CHECK THE SERIAL NUMBERS OF ANY HP PAVILION, HP 6830S C2D AND SONY VAIO THAT YOU RECEIVE AGAINST THE SERIAL NUMBERS AS DETAILED IN THE LISTS ATTACHED. IF ANY OF THE SERIAL NUMBERS MATCH WITH THOSE ON THE LISTS THEN YOU MUST IMMEDIATELY ADVISE THE INGRAM MICRO LEGAL DEPARTMENT. IF YOU CHOOSE NOT TO INFORM INGRAM MICRO IN SUCH AN EVENT - THEN YOU, YOUR COMPANY OR ORGANIZATION WILL BE PARTICIPATING IN A CRIME AND WE RESERVE ALL RIGHTS TO TAKE LEGAL ACTION.
One Ingram Micro customer, who got in touch with El Reg, was taken aback by the firm's aggressive tone. "Apart from the poor grammar, and all the SHOUTING, the tone makes Ingram look very bad," he said.
"I wouldn't have thought threatening your customers would endear you to them."
A spokeswoman for Ingram Micro confirmed its Belgian warehouse had been raided. She declined to provide any further details, citing an ongoing investigation. ®
Sponsored: Webcast: Ransomware has gone nuclear