Leccy Tech The latest e-car buzz is that Audi is set to demo a battery-powered version of its R8 supercar at this year's Frankfurt Motor Show.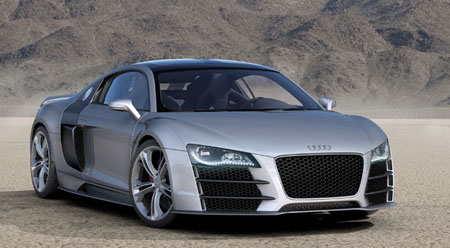 Audi's R8: battery-powered version on its way?
Unfortunately, the rumour – which cropped up in the German magazine Auto Motor and Sport and the French title L'Automobile — hasn't yet led to the discovery of any technical details.
But it's reasonable to assume that if Audi's working on a battery-powered R8 then the e-car will sport either a pure electric set-up or a range-extended design, the latter with an internal combustion engine hooked up to a generator.
Just last week, Audi's CEO, Rupert Stadler, said he believes EVs are still several years away from becoming affordable, mainstream vehicles.
A leccy R8, though, wouldn't need to be any more affordable or mainstream than its petrol-powered V8 sibling.
If the rumours prove to be true then a limited production run isn't wholly out of the question.
The space frame chassis R8 is more or less hand-built at a dedicated factory near Stuttgart where 15 R8s are currently produced each day. So although building a leccy version alongside wouldn't cause massive disruption, it would likely slow overall factory output.
As for what a leccy R8 might look like, Audi's design study for its concept V12 turbo-diesel R8 could give us some idea – just imagine fewer grilles at the front. ®