'Strategy' is stretching it a bit
We all know in hindsight Nokia that should have focussed on making the mobile and PC clients perfect, and limiting the number of devices at launch to a subset of those supported. Anything before S60 3rd edition didn't really need to be there, and there's a case for limiting to devices launched in the past 18 months, even though there are a lot of N73s and E61s out there.
Separating the excellent applications from chaff such as movie trailers and wallpaper might have helped. There are still a handful of good applications out there, despite diminishing interest in Symbian, the pick of which is the best mobile email client in the world, Profimail. (Measured in ease of use, features, and the fewest seconds it takes to achieve a given task - a formidable combo.)
But again that goes against the Web 2.0 ethos of "stick any old crap up there - and let the Hive Mind sort it out". No thanks, I don't want MOSH 2.0.
And as for games - it would be flattering Nokia to call the six year N-Gage adventure a "strategy". Again, it saw the market early, but didn't follow through. Every now and again the multi-billion dollar investment veers back into view, only to disappear again. Is it N-Gage or Ovi Gaming? The few titles that are out there aren't too bad, but again Nokia's delivery strategy makes them hard to obtain. Meanwhile you can't escape people playing games on their iPhones, or iPod Touches.
Operation Rescue Nokia
The market could benefit from a healthy Nokia software market, so here are some suggestions. There's a valuable lesson to be learned. In business as in war, you make the most of your assets while trying to minimise your weaknesses. Nokia's Ovi Store does the opposite: it emphasises the complexity and lack of focus at the company, and its disorganisation. If your first and only experience of Nokia was Ovi, you would never believe the company could ship 50 products into 120 markets with military efficiency.
Firstly, Nokia should focus on people's needs - and applications that make the phone useful and fun - and not building up a "a portfolio of web services". It's already invested heavily in Maps and games - just make them easy to try and buy.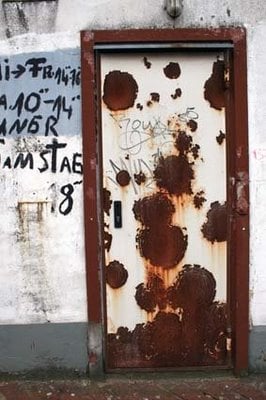 Ovi means "door" in Finnish
Secondly, the Ovi brand has made no impact on phone users at all. There's no shame in abandoning confusing or invisible brands. Confine Ovi to mean boring, management services like backups, or data transfer, or services discovery. These shouldn't be underestimated; they should give users security and peace of mind.
Thirdly, the vast majority of users want to do a few tasks simply - take note of the Magners TV ad which now singles out flash smartphones that are impossible to use. Nokia has inched towards better usability with the E71 and the 5800, but this needs to be a company-wide goal. Showing photos on the family TV, sharing photos with a small group - all much more useful than the 2.0 guff.
And finally, the managers responsible for putting together the Ovi Store should be put on Nokia's naughty step - and left there for the Finnish winter. ®
Similar topics