Samsung WB500
World's widest angle compact camera?
Review Camera manufacturers are always looking for some unique selling proposition. In the case of the Samsung WB500, it's been marketed as world's first compact with the equivalent of a 24mm, ultra wide optical 10x zoom. But with a few other models, such as Panasonic's DMC-TZ6 and DMC-TZ7, already equipped with a 25mm lens, this isn't exactly a massive leap forward in camera technology. However, the WB500 does have one or two other tricks up its sleeve.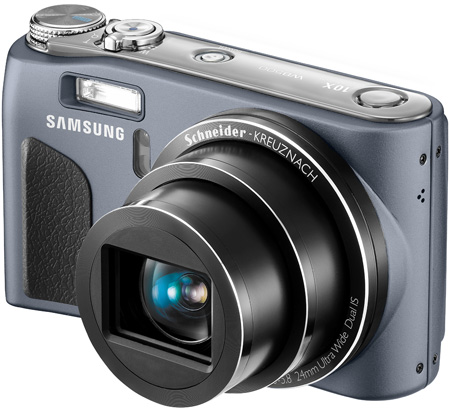 Taking the wide view: Samsung's WB500
There are times when advertising copy makes you splutter into your coffee cup and Samsung's website certainly had that effect on us. The website blurb says: "See how the unbelievably compact WB500 hides a 24mm ultra wide 10x optical zoom lens in its thin design". Well, thinness is clearly in the eye of the beholder, because the WB500 is anything but slim. In fact, it's a rather chunky model measuring 105 x 61.4 x 36.5mm and weighing 250g when loaded with battery and card.
A quick tour reveals, from the top, left to right, a small power button, zoom lever and mode dial. The back is dominated by a 2.7in LCD screen composed of 270,000 pixels. To the right is a command lever, which is used for adjusting various parameters including ISO, aperture and shutter speed. There's also a function button, five-way control dial, playback button and Effect button, but more on this later.
On the right is a plastic cover for a mini USB port, which is used for power, PC connectivity and AV out – that's one versatile connection. You can even use it to recharge the WB500 from a PC's USB port. At the bottom is the usual battery/card compartment – the WB500 takes SD, SDHC and MMC Plus cards and also comes with 30MB of internal memory.
In terms of features, Samsung seems to have packed everything but the kitchen sink into the camera. There's a 1/2.33in CCD with 10.2Mp (effective), a Schneider 4.2-42mm f/3.3-f/5.8 10x optical zoom lens, equivalent to a 24-240mm zoom on a 35mm camera. The standard shutter speed range is 1/8-1/500 sec and this can be increased up to 16 seconds in manual mode.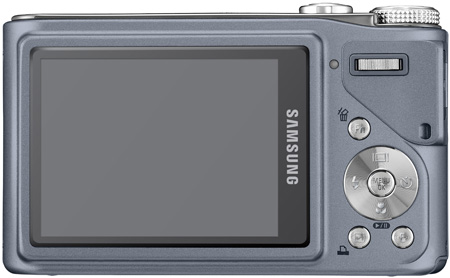 A sizeable 2.7in screen keeps you in the picture
ISO ranges from 80-3200, although the highest setting has a file size limit of 3MB. There's also a dual (optical and digital) image stabilisation system. The image resolution ranges from 3648 x 2736 to XGA (1024 x 768) with three levels of compression.