The BBC has announced that 21-year-old Karen Gillan will be Matt Smith's new companion for his first outing in Doctor Who, scheduled to hit the small screen next year.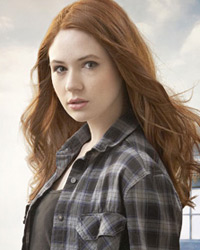 Gillan (pictured) previously appeared as a soothsayer in The Fires Of Pompeii. The Inverness lass enthused in traditional Doctor Who announcement style: "I am absolutely over the moon at being chosen to play the Doctor's new companion. I just can't wait to get started.
"The show is such a massive phenomenon that I can't quite believe I am going to be a part of it. Matt Smith is an incredible actor and it is going to be so much fun to act alongside him."
BBC Wales' Head of Drama Piers Wenger joined the party with: "We knew Karen was perfect for the role the moment we saw her. She brought an energy and excitement to the part that was just fantastic. And when she auditioned alongside Matt we knew we had something special."
Exec producer Steven Moffat threw himself wholeheartedly into the love-in, describing Gillan as "funny, and clever, and gorgeous, and sexy. Or Scottish, which is the quick way of saying it."
He concluded: "A generation of little girls will want to be her. And a generation of little boys will want them to be her too." ®