Microsoft has signed a deal with Sky that'll see the broadcaster's programmes available on your Xbox 360.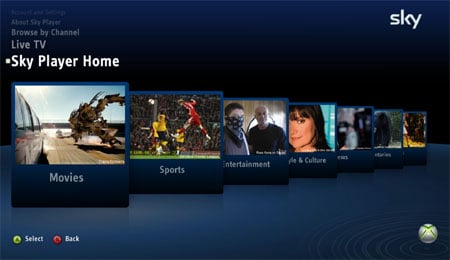 Sky Player brings the broadcaster's TV shows, movies and sports coverage to your Xbox 360
Described as the world's first service enabling "premium live television to be watched through a games console", the deal will deliver a selection of Sky channels, individual programmes, films and sports events through Xbox Live.
Although specific details about which shows and channels you'll have access to haven't yet been announced, Register Hardware tried the service – called Sky Player – at a recent unveiling in central London.
Sky Player retains Xbox Live's familiar floating panel structure, as shown above, and is accessed through the Video Marketplace menu. From here you can choose from among a number of programme genres - including Sports, Movies, Entertainment and News – which are streamed to you live or on demand.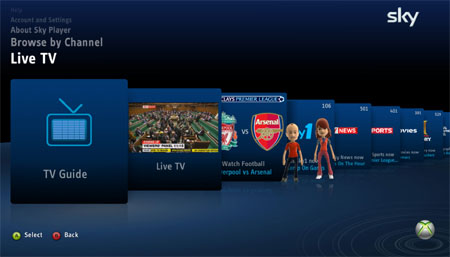 Stream live TV (shown above) or watch films on demand
Sky has used Xbox Live's avatars to bring interactivity to sporting events. Your avatar will be able to invite up to seven other Xbox chums to watch a football match together.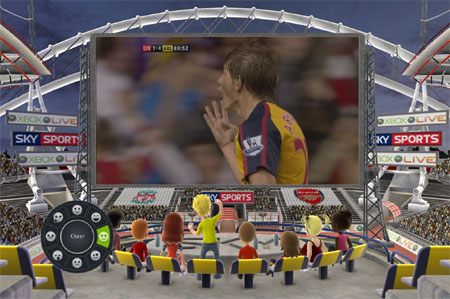 Avatars add interactivity to Sky's football coverage
You'll be able to don a headset and hold voice chats with friends, or vent your anger about Rooney's missed goal using a range of emoticons.
The avatar feature will initially be restricted to football games. But a Sky spokesperson told us that it'll be rolled out over time to other sports, including cricket.
All live content will be streamed in standard definition, while on-demand content will be sent over in "DVD quality", Sky said.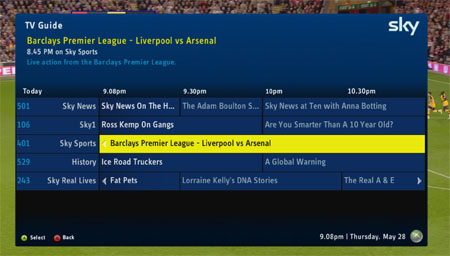 Sky's EPG has been replicated on Xbox Live
Existing Sky subscribers need a Multiroom package to simultaneously watch, say, Sky One on a bedroom telly and a film through their Xbox 360 in the lounge.
Sky Player will be launched in the UK this autumn. More concrete details about content availability and pricing will be available closer to the launch. ®