This article is more than 1 year old
LG 42LF7700 HD TV
Good reception? Enter LG's first Freesat telly
Review
LG might not be the first name that comes to mind when selecting an HD TV set – the massive marketing campaigns of Sony, Toshiba and Samsung have seen to that. However, its new 42LF7700 set provides impressive image quality and admirable ease of use at a competitive price. And, to top it all off, LG has even managed to squeeze in a Freesat HD tuner as well.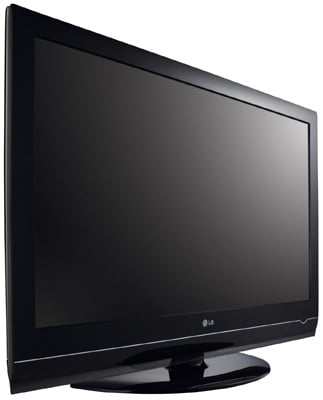 LG's 42LF7700 HD TV with Freesat tuner
There are several models in the LF7700 range, with prices starting at around £600 for a 32" screen, and going up to £1100 for the 47" model. However, we tested the mid-range 42" version, which has a typical online price of just under £900.
The set's design is simple enough. We were rather hoping for a 42" version of LG's flowery Lotus mobile phone, but the company obviously decided that might be a bit distracting and, instead, opted for a plain 2in band of glossy black bevel around the screen. The words 'Full HD' are stencilled into the top-right corner, announcing the fact that the screen has full 1080p resolution, but the key feature, of course, is the built-in Freesat HD tuner located on the back panel.
Until recently, Panasonic was the only company allowed to build Freesat tuners into its TVs, so it's good to see some new competition moving into the market and – hopefully – encouraging wider adoption of Freesat. You'll need a satellite dish to pick up the Freesat signal, of course, but if you don't have a satellite installed then the 42LF7700 also has a hybrid TV tuner that will allow you to connect a standard aerial in order to pick up either conventional analogue channels or the Freeview digital service.
Also located on the back panel are two HDMI interfaces, two SCART connectors, component video input and digital audio output. Interestingly, one of the HDMI interfaces is designed to accept an input from a computer with a DVI interface, which meant that we were able to connect the Mac Mini, that we use as a media centre, with no trouble at all. For older computer systems, the 42LF7700 also has a VGA connector, if required.

Analogue and digital terrestrial services are supported, as well as Freesat
Over on the left-hand edge of the screen, there's another set of connectors including a third HDMI interface, composite video with stereo input, headphone output, a CI slot for pay-TV top-up cards and a USB port that supports playing music or photo slideshows stored on a memory stick.