Plague of web bugs descend on British sites
HSBC, Barclays, The Telegraph bitten
---
It's been a busy week for high-profile web vulnerabilities, with discoveries of careless bugs on the sites of three British companies.
Online banking sites for HSBC and Barclays Group and the website for The Telegraph were caught with their pants down, as hackers published screenshots and other details that showed all three were susceptible to attacks that could compromise the security of people who visit the properties.
The XSS, or cross-site scripting, errors on HSBC were still present on a variety of HSBC sites on Monday afternoon California time, some 48 hours after the XSSed blog first reported them. The bugs allowed attackers to inject javascript and content into HSBC websites simply by tricking a user into clicking on a specially manipulated web address.
"Malicious people can exploit these bugs to conduct phishing attacks and infect bank customers and site visitors with crimeware," the blog warned.
The accompanying screenshot shows a browser that is pointed at an HSBC site for Hong Kong users. But because of flaws in the way the site was designed, the XSSed researchers were able to superimpose their own banner and article into the browser window.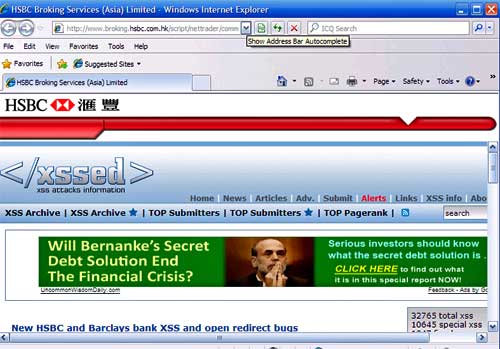 This XSS brought to you by HSBC
The researchers said Barclays was vulnerable to similar bugs, but as of Monday afternoon, they appeared to have been fixed.
Around the same time XSSed report was released, members of the HackersBlog published details of a SQL injection vulnerability in the main website for The Telegraph. The vulnerability looked especially severe because it exposed sensitive system files to those who knew how to append database commands to the website address.
Jeremiah Grossman, CTO of WhiteHat Security, a firm that specializes in web application security, has estimated that more than two-thirds of websites suffer from at least one XSS vulnerability. Such vulnerabilities put them at increased risk of phishing expeditions, as well as attacks that expose customer authentication cookies.
Grossman has said at least 16 of the top 1,000 websites are affected by SQL injection vulnerabilities, which result from web applications that fail to sanitize characters entered into search boxes and other web fields. That allows attackers to read and in some cases alter database contents by piping commands directly to a site's back end. ®