This article is more than 1 year old
Atlantis hitches a ride to Florida
While NASA preps Endeavour for ISS trip
Space shuttle Atlantis is today at Biggs Army Air Field, El Paso, Texas, having hitched a ride yesterday atop a modified 747 from Edwards Air Force Base, California. NASA is closely eyeing the weather to see if the Shuttle Carrier Aircraft can make the final leg to Kennedy Space Center in Florida this afternoon.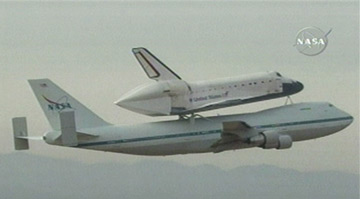 Atlantis returned to Earth on 24 May at the end of its STS-125 mission to the Hubble Space Telescope - a "13-day journey of approximately 5.3 million miles in space".
During five space walks, the Atlantis crew fitted the venerable eye in the sky with new instruments, fixed some broken kit and provided the 'scope with extra insulation. It should now be good to keep operating until at least 2014.
At Kennedy, meanwhile, NASA is prepping Endeavour for its forthcoming STS-127 mission to the International Space Station - the 23rd ISS construction mission. The shuttle will blast off on 13 June from Launch Pad 39A carrying the Kibo Japanese Experiment Module Exposed Facility and Experiment Logistics Module Exposed Section.
NASA has released the traditional cheery crew photo, showing pilot Doug Hurley and commander Mark Polansky (front row, left and right), along with (back row L-R) astronauts Dave Wolf and Christopher Cassidy, and mission specialists Julie Payette of the Canadian Space Agency, Tom Marshburn and Tim Kopra.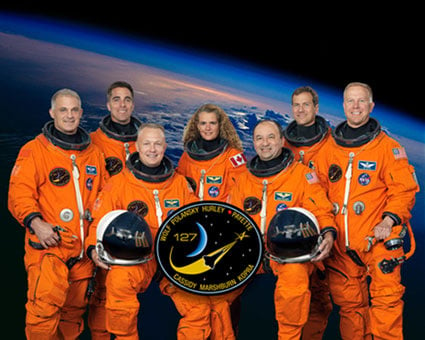 STS-127 features five planned spacewalks to fit the Japanese lab extension. NASA explains: "The facility will provide a type of 'front porch' for experiments in the exposed environment, and a robotic arm that will be attached to the Kibo Pressurized Module and used to position experiments outside the station."
At the end of the 16-day mission, Tim Kopra will remain aboard the ISS as a flight engineer and science officer, while Japanese astronaut Koichi Wakata - who's been aloft since arriving aboard Discovery on STS-119 mission back in March - will return to Earth on Endeavour.
NASA has the main STS-127 site here, a mission overview here and a mission summary here (pdf). ®