This article is more than 1 year old
Hitachi CP-RX80
Low price, practical projector
Review Price competition at the entry level for digital projectors is certainly becoming intense. Inevitably, the cheapest models are just new boxes containing legacy hardware: you get what you pay for. With the CP-RX80, Hitachi pushes gently against the tide with an attractively priced projector that is actually rather good.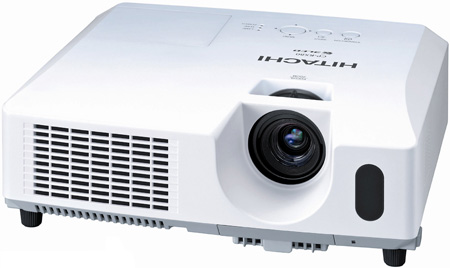 Hitachi's CP-RX80 LCD projector: all the better for the no-frills styling
Cased in cute white plastic, the CP-RX80 is blessedly plain in appearance, with none of the ugly fins and gills that projector designers love so much. It would be unfair to call this LCD projector 'large' but it seems fairly substantial because the 317mm width is greater than the 288mm depth, although it is just 98mm high.
The CP-RX80 weighs 3.3kg, putting it in the portable category. However, it does not offer any specific portability features: there is no built-in handle, nor is any carry case included in the price. With other low-cost projectors, the lack of a handle can lead to burnt fingers when putting the device away, but not so with the CP-RX80: the casing never gets more than gently warm, even with the lamp on at full blast.
The lens is set back into the body of the unit by several centimetres, and manual adjustment rings for both focus and 1.2x zoom are conveniently positioned on top. The position of the lens suggests that the fan and lamp hardware is significantly bigger than the optical apparatus. A removable cover plate held in place by a single screw on top of the unit gives easy access for replacing the lamp.
Power is supplied to an input on the right-hand side of the case, unfortunately, so woe betide anyone whose nearest mains socket is on the left of the projector: expect to deal with unnecessary lengths of power cabling curling around the back, tugging the projector off-angle and passing directly behind the hot air exit grille of the fan. All other ports are located at the rear. There is only one computer input – a single analogue mini D-sub (VGA) port – as well as a single video-in RCA port and an S-video port.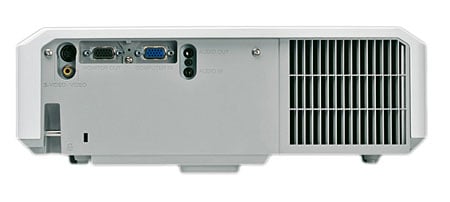 Easy access to ports, apart from the side-mounted mains input
There are no digital inputs, so an adapter is required to connect to DVI-A and DVI-I outputs. You may need to hurdle bigger technical obstacles to connect DVI-D and HCDP devices, depending upon their VGA-DVI-D conversion capabilities. Of course, you could invest in a DVI-to-VGA (digital-to-analogue) converter, and something to circumvent any HCDP encryption, but it would be cheaper to buy a projector with a digital input to begin with.