Websense users were temporarily blocked from enjoying the launch of Microsoft's Bing search engine on Monday.
Similarities between the Bing domain and that used by a Microsoft IM app - rather than the ready availability of porn through the new search decision engine - were behind the temporary roadblock.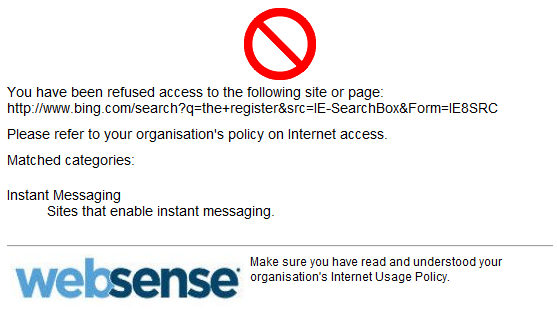 Bada Bing block
Websense has now reclassified the site to allow surfers in corporates who restrict IM apps unfettered access to Microsoft's revamped response to Google, as a statement from Websense explains:
Due to an associated site known to provide MSN Live Messenger instant messaging capabilities, Microsoft's Bing.com was temporarily categorized as "Instant Messaging" for Websense customers. SurfControl filtering customers (which have a different set of categories) had Bing.com categorized as "Chat".

This has now been changed and is categorized as 'Search Engine and Portals' for Websense customers and 'Search Engines' for SurfControl filtering customers. Websense customers that have downloaded the latest URL database will already see the updated classification. SurfControl customers who download the latest database will see the change today [Tuesday].
Bing would of course be a great name for an instant message app for New Jersey wiseguys. The previous use of the site as an MSN IM domain seems like a placeholder ahead of the launch of Bing this week. ®
Bootnote
Thanks to Reg reader Tim H for the heads up. "Maybe Microsoft should have told web security firms that all live.com searches would be forwarded to bing.com," he told us on Monday.