Microsoft Bing rehosts Wikifiddling as 'Reference' material
Wikihegemony extended
Update: This story has been updated with comments from Microsoft.
We all know that Google's search engine likes to push Wikipedia links to the top of its results pages. But Microsoft has gone a step further.
With its new Bing decision engine search engine, Redmond is reproducing Wikipedia entries in their entirety, pulling content from "the free encyclopedia anyone can edit" and tossing it onto Bing pages labeled with a "Reference" tag.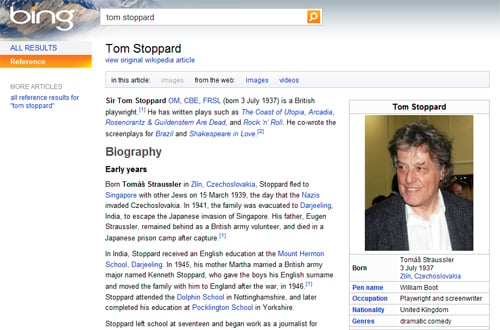 Wikibing
Microsoft is expected to point this out in a blog post sometime today or tomorrow. "There now is a Wikipedia 'Reference' vertical that can be accessed through Bing. Certain queries like 'squirrel monkey' for example will trigger a reference answer in the Table of Contents. Click 'Reference' in the left hand rail and you will be transported to best Wikipedia page for that query," reads a draft of the post.
But you're not actually transported to a Wikipedia page. You're transported to a reproduction of a Wikipedia page on Microsoft's own site, where it's labeled as "Reference" material.
In short, Redmond has tightened Wikipedia's hold on the minds of the world's web surfers. Uber-blogger Nicholas Carr has characterized the web, Google, and Wikipedia as an "information triumvirate" that transformed the net "from a radically heterogeneous information source to a radically homogeneous one." And Wikipedia's hegemony has now been extended, as it takes its place as the sole source of "Reference" information on another major web search engine - albeit it one with significantly smaller market share.
Google controls more than 60 per cent of the search market, Microsoft around 10.
According to according to Sam Ramji, Microsoft's senior director of platform strategy, Bing's Reference tab is the work of Powerset, the open-source-happy Semantic search outfit that Microsoft acquired last July.
A few months before the Microsoft acquisition, Powerset unveiled a semantic search engine just for Wikipedia content.
When you visit a rehosted Wikipedia entry, Ramji indicated to us, you can also perform a Powerset-powered semantic search. You can ask, say, "Was Albert Einstein married?" and Bing will attempt to answer this natural language question by searching a database of Wikipedia info. But at least for the moment, it isn't immediately obvious that such semantic searches are possible - i.e. the "Reference" pages don't tell you it's possible.
In reproducing Wikipedia articles, Microsoft gives the nod to a pair of content licenses. "All Wikipedia content is licensed under the GNU Free Document License or the Creative Commons CC-BY-SA license or is otherwise used here in compliance with the Copyright Act," reads each Wikibing page.
Wikipedia content was originally licensed under the GNU Free Document License. Then, just last month, the Wikipedia Foundation - the not-for-profit behind Wikipedia - announced that all its projects will move their primary licensing to the Creative Commons Attribution/Share-Alike License (CC-BY-SA). This is meant to make it easier for people to reuse Wikistuff, but the change hasn't officially been rolled out.
Microsoft doesn't appear to be editing Wikipedia pages and it's linking back to the GFDL license, so it would seem that Redmond is free to reproduce the content and even serve ads against it. "An inherent part of our license structure is that downstream commercial uses are allowed," one longtime Wikipedian tells The Reg. But the GFDL isn't easily navigated - even for the sharpest legal minds.
"I am aware of very few people who think the GFDL is a 'good' agreement," Santa Clara University law professor and tech law blogger Eric Goldman tells The Reg. "Very few people can understand the GFDL and apply it in a logical fashion." Microsoft says it does not have any sort of revenue-sharing agreement with the Wikimedia Foundation.
Regardless, Wikipedia's undoubted talent for information-pushing is on the rise. Microsoft's move only solidifies the notion that the "free encyclopedia anyone can edit" is an unbiased source of factual information.
Wikifiddlers often say that the site's ostensibly democratic model ensures that any mistakes are quickly corrected. But that's not always the case. And even if it were, isn't it worth asking how often Microsoft will refresh those "Reference" pages? ®