This article is more than 1 year old
Robosub prowls Pacific's hadal depths
Nereus plunges to 10,902 metres
US scientists are hailing a "new era" of deep-sea exploration after successfully dispatching a robotic vehicle to the bottom of the Mariana Trench - 10,902 metres or 6.8 miles beneath the Pacific's surface.
The Nereus (pictured below during tests off Hawaii in 2007) hit the bottom of the Challenger Deep on Sunday, making it the only the third vehicle to probe the profoundest hadal depths. In 1960, Jacques Piccard and Don Walsh aboard bathyscaphe Trieste descended to 10,911 metres.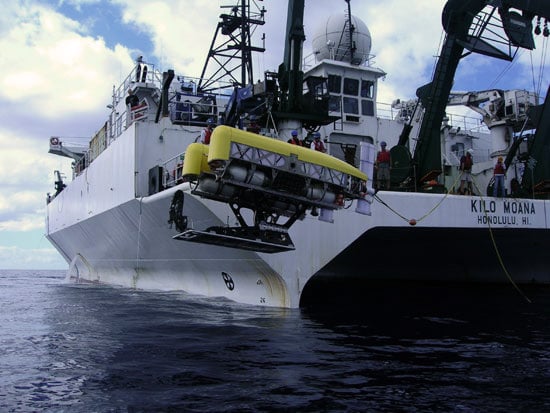 Between 1995 and 1998, the Japanese-built unmanned Kaiko made three dives in the trench, but was lost at sea in 2003, marking a temporary end to exploration of the Pacific's deepest point.
Until now. The three-ton Nereus was lowered from the research vessel Kilo Moana, braving pressures greater than 1,000 times that at Earth's surface, or "crushing forces similar to those on the surface of Venus", during its ten-hour stay on the bottom. It collected samples and "placed a marker on the seafloor signed by those onboard the surface ship".
In designing Nereus, scientists and engineers from the Woods Hole Oceanographic Institution (WHOI) balanced "size, weight, materials cost, and functionality" to create a hybrid vehicle capable of withstanding its extreme operating environment without costing the GNP of a small country.
WHOI explains: "Building on previous experience developing tethered robots and autonomous underwater vehicles at WHOI and elsewhere, the team fused the two approaches together to develop a hybrid vehicle that could fly like an aircraft to survey and map broad areas and then be converted at sea into a tethered, remotely operated vehicle (ROV) that can hover like a helicopter near the seafloor to conduct experiments or to collect biological or rock samples under real-time human control."
The result is a vehicle powered by 4,000 onboard lithium-ion batteries ("similar to those used in laptop computers and cell phones"), and boasting around 800 weight-saving ceramic floation spheres (as opposed to the "much heavier traditional syntactic foam" used on previous submersibles), and a hydraulically-operated robotic manipulator arm modified to use as little of its vital battery power as possible.
Removing the need to provide external power has allowed WHOI to deploy a revolutionary tethering system. It elaborates: "Traditional robotic systems use a steel-reinforced cables containing copper wires to power the vehicle and optical fibers to enable information to be passed between the ship and the vehicle. If such a cable were used to reach the seafloor in the Mariana Trench, it would snap under its own weight."
Nereus, though, is attached to the surface by nothing more than a tether the diameter of a human hair, "composed of glass fiber core with a very thin protective jacket of plastic" and with a breaking strain of just 4kg (8.8lb).
So slight is the tether that 40km (25 miles) of the cable are dispensed from "two canisters the size of large coffee cans".
Scientists have high hopes that Nereus will enable new insights into the murky depths, and Julie Morris, director of the National Science Foundation Ocean Sciences Division - which stumped much of the cash for the $8m project - concluded: "Much of the ocean's depth remains unexplored. Ocean scientists now have a unique tool to gather images, data, and samples from everywhere in the oceans, rather than those parts shallower than 6,500 metres.
"With its innovative technology, Nereus allows us to study and understand the ocean's deepest regions, previously inaccessible. We're very pleased with the success of these sea trials." ®
Bootnote
For those of you disappointingly not up to speed on Greek mythology, Nereus was the son of Pontus and Gaea (Gaia, if you will), and "had the gift of prophecy and could change himself into any shape".
He had 50 kids by fellow sea deity Doris, although the family mostly hung around the Aegean, rather then the Pacific. More here.