The US Missile Defence Agency's long awaited blaster-cannon-in-a-jumbo-jet, the Airborne Laser (ABL), is now carrying out inflight test zappings. Reports suggest that the actual laser is doing well so far, but that the carrying 747 is suffering technical problems having been grounded for a lengthy period while its energy weapon was fitted.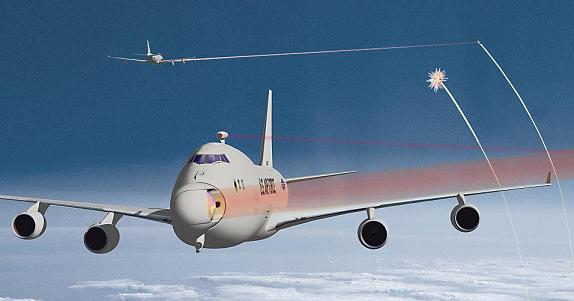 Jeez, Larry! Watch where you're goddamn going, wouldja?
Aviation Week, quoting new Missile Defence chief General Patrick O'Reilly, says that the beam cannon has now been fired in the air and is performing well to ranges beyond 100km. The weapon system's ability to compensate for atmospheric conditions between it and its target is a make-or-break matter for the ABL, and so far O'Reilly says it's doing fine.
However, the raygun jumbo is intended to blast intercontinental missiles boosting up from their pads from much further off than that. Details of the planned performance are classified, but a service range of 400km has been mentioned by US government sources. That would allow patrolling ABLs to beam down boosting ICBMs from international airspace in many cases - from off the coast of North Korea, for instance.
Meanwhile, it seems that the flight test programme is being affected by maintenance issues with the carrying aeroplane, a heavily modified Boeing 747-400F freigher - one of the few aircraft able to lift the ABL raygun, its chemical fuel and the associated sensors and beam-pointing equipment. During the lengthy period the plane has spent on the ground having the full-fat laser installed - it had previously done flight tests using a lower-powered job to prove the rest of the kit - it seems that its hydraulics and brakes have rusted up somewhat. General O'Reilly says the plane has become a little "cranky", but believes that Boeing engineers will soon have it back in top shape.
That's probably just as well, as the ABL can't afford any more problems. O'Reilly says it's now on a "three strikes and you're out" basis.
There are three live tests planned and funded, in which the ABL will attempt to shoot down missile targets of the same general type as a Scud short-range ballistic. The first test could be as early as September or as late as October, with the last early next year. If none are successful, O'Reilly seems to be saying he will recommend axing the ABL altogether.
Even if it blasts all three targets successfully, the ABL will still have a difficult path ahead of it. It isn't a viable concept as a single aircraft, but funds for further planes have now been cut. It may prove difficult for the Missile Defence people even to find enough cash to test it against a proper ICBM - the type of target it is actually designed to tackle.
No matter how well the tests go, there will still be those arguing that an ABL fleet isn't worth the cost and difficulty. It's now known that a reload of dangerous, toxic chemical fuels for an ABL would completely fill two monster C-17 transport planes. Hints dropped by the US Air Force Research Laboratory have suggested that an ABL may be able to carry out as few as 6-10 "shots" before refuelling.
There will be those who'd suggest that, at least in the case of North Korea, it would be simpler to station a US Navy Aegis warship equipped with a magazineful of Standard SM-3 missile-busters off the coast, rather than maintaining costly ABL patrols. The SM-3, while not designed to take out ICBM warheads during the high middle portion of their arc, would surely be able to engage a Nork "Taepodong-2" ICBM rocket stack during its initial climb over the Sea of Japan - an SM-3 kill vehicle has already successfully nailed a low-flying satellite, after all.
All in all, it seems to be crunch time for the blaster jumbo. All eyes will be on the initial tests this autumn.
You can read the Av Week report here. ®
Similar topics