Money searches
Many of Bing's best features are reserved for users who look as if they might spend money. Search for "New York restaurant", for example, and you get an instant answer listing. Click Local, and you can sort by rating, price, cuisine and more. Click a restaurant name, and you get ratings in numerous categories, reviews, map, opening hours and telephone number, all without leaving Bing. Other areas of special focus are shopping and travel. Ratings and reviews are not derived from the whole web, but only from a few trusted partners and aggregators.
One feature common to all Bing results lists, even in the UK, is a quick preview that appears on mouse rollover, which makes it easier to tell whether the link is worth clicking. Preview is also used to good effect in video results, even if there are unfortunate side effects when it comes to porn - seriously, didn't anybody inside Microsoft see that one coming? Preview plays for 30 seconds in thumbnails within the page.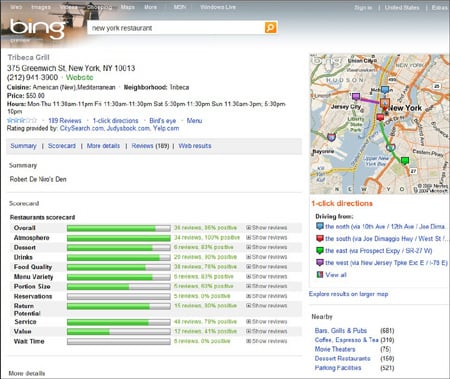 Restaurant searches pull back contact details, ratings, reviews and directions
You can also play the entire video within the top half of the Bing result page. Webmasters can apparently disallow these preview features if they would rather users came to their own site immediately, and it will not be a surprise if many of them do just that. Google might not welcome users enjoying the full range of YouTube videos without leaving Bing.
Returning to the original question, how good is Bing? I tried around a dozen searches and compared Bing's results to those in Google. Most results seemed about equal in quality, though I preferred Google in a couple of cases. That said, Bing's site preview helped greatly in checking out the links without navigating away from the page. It seems a substantial improvement over the old Live Search, and a credible alternative to the market leader.
Like every search engine, Bing can get the user's intent spectacularly wrong at times. Bing has a mobile version, m.bing.com, on which I searched for Windows Mobile. At the top of the results were glass companies in the city of Mobile in the US state of Alabama.
Bing's biggest problem is that Google is more than good enough, and most users will not bother to switch. Further, Google experts will know that it already has features that match some of what Bing does, like best match site summaries, an options pane, and a related search pane.
Google does the same trick with weather searches as Bing while Web Groups in Bing are to a large extent related searches in disguise. And, if Bing does take off then its tendency to keep users on the search page, driving fewer hits to the source sites, will not be popular with publishers or sites that rely on clicks for money.
Still, Bing surpasses expectations and its preview feature is actually useful. Overall, surprisingly good.®