Commander Gennady Padalka and flight engineer Mike Barratt will tomorrow venture outside the International Space Station to prep the Pirs docking module for the arrival of the Russian Mini-Research Module 2.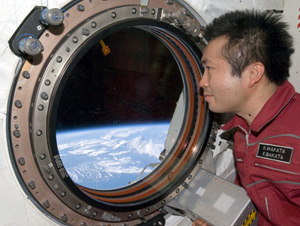 The pair are tasked with installing a docking antenna to guide the module into place when it finally arrives aboard an unmanned Soyuz, slated to blast off on 10 November. The unit will act as an extra docking port for Russian vehicles.
Guiding operations from inside the orbiting outpost's Zvezda service module will be Japanese astronaut Koichi Wakata (pictured). The spacewalk is scheduled to kick off at 06:45 GMT, and will last five-and-a-half hours.
The ISS's three other occupants, meanwhile, are "familiarizing themselves with their new home in space". Flight engineers Roman Romanenko, Robert Thirsk and Frank De Winne arrived aloft on 29 May aboard a Soyuz TMA-15 capsule, marking the station crew's expansion to a permanent roster of six.
There are full details on Expedition 20 here. ®