Leccy Tech North American e-car firm Miles Electric Vehicles has finally unveiled its first motor - the Coda EV saloon. Or, to be exact, it's rebranded itself Coda Automotive and named its first car after itself.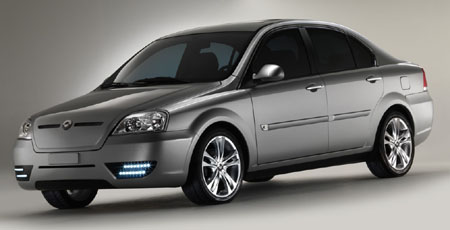 Miles EV's Coda Automotive's first EV - the Coda
The Coda EV saloon is to be built in China by Hafai Motors and based largely on the chassis of a Hafai saloon car, albeit with some modifications and re-engineering by Porsche.
Apparently the Chinese assembly line will be overseen by Coda production engineers, who'll be tasked with ensuring that the Coda EV exceeds current USA safety standards – the firm also expects a five star NCAP safety rating.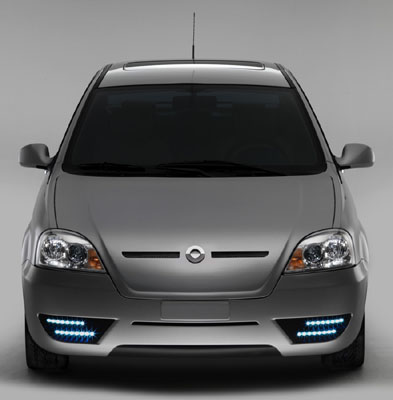 The front-wheel drive car's top speed's limited
Power will come from a 333v 33.8kWh battery pack that's connected to a 100kW (134bhp) UQM electric motor, which will drive the front wheels. Its lithium-ion battery pack will come from Chinese company Lishen and carry an eight-year/100,000 mile warranty.
Coda said that the vehicle's top speed will be electronically limited to 80mph and that it'll be capable of travelling between 90 and 120 miles – that's dependant on terrain, speed and driving style, of course. A 0 - 60mph dash will take "under" 11 seconds.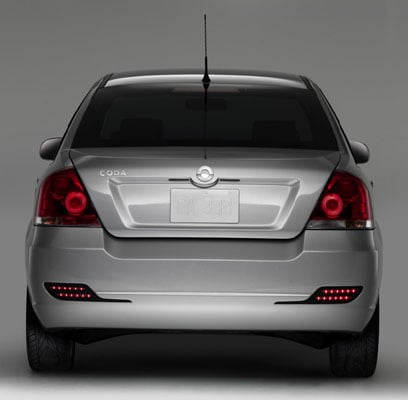 0 - 60mph in "under" 11 seconds
Prices will start at $45,000 (£27,200/€31,600). Initially the car will only be available in California, so buyers can expect to lop another $7,500 (£4,500/€5,300) off of the quoted price thanks to the Federal e-car car rebate. Deliveries are scheduled to start in the second half of 2010. ®