Acer Aspire One D250
Inch-thick successor to the popular AA1
Review Acer made a significant impact on the netbook market last year with its hugely popular Aspire One A110. It recently released a selection of new netbooks in its Aspire One range, and the D250 we have here is bizarrely similar to the D150, which was only launched a couple of months ago.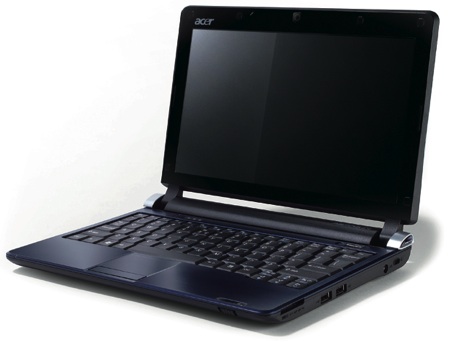 Acer's Aspire One D250: only an inch thick
It might not be a catwalk queen, but the D250 looks attractive enough and benefits from a well-built chassis that doesn't creak under pressure. Four colour options are available: white, black, red and blue, and on our white review model each hinge features a small green bit of plastic on the side. Whether this is tacky or tasteful is up for debate, but we rather like it.
We're keener on the D250's girth - lack of it, rather. It's only an inch high. That's not as thin as Asus' svelte Eee PC 1008HA - but makes it much nicer than the D150 and lots of other, chunky netbooks.
The D250 we reviewed makes use of Intel's 1.66GHz Atom N280 and Acer supplies it with 1GB of DDR 2 memory. Watch out, though: it's also available with the 1.6GHz N270, and in fact almost all supplier in the UK are selling the latter.
Two USB ports and a multi-format card reader are found on the right, along with the power socket. On the left sit Ethernet, VGA, audio in/out and a third USB port. The vent is also on the left, and although the D250's fan fired up a fair amount during testing - even when doing little more than browsing the web - it's not loud enough to irritate.
The rear is home to naught but the three-cell 2200mAh battery. A six-cell version is also available, though the battery's a bulky affair that angles down from the notebook to lift the back of the machine up off the deck. It makes the machine less comfortable to carry - stick it in a bag and you won't care - but you may find it angles the keyboard better.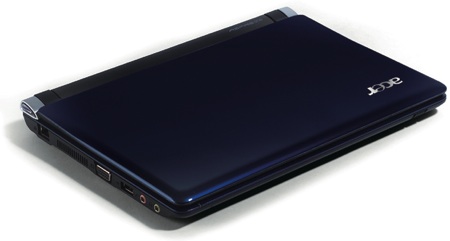 Standard netbook spec
At the front you'll find a small Wi-Fi power switch - Bluetooth can be axed using a button just above the keyboard.