This article is more than 1 year old
Transition flying car into 'beta test': Deliveries from 2011
In this case 'beta test' = new prototype
The makers of the Terrafugia Transition - the closest thing to a flying car yet built - say that flight testing of the initial "proof of concept" vehicle is now complete, and that the Transition has been shown to be a viable proposition. Terrafugia will now build a "beta test prototype", incorporating lessons learned by the first phase of flight tests. First customer deliveries are now expected in 2011.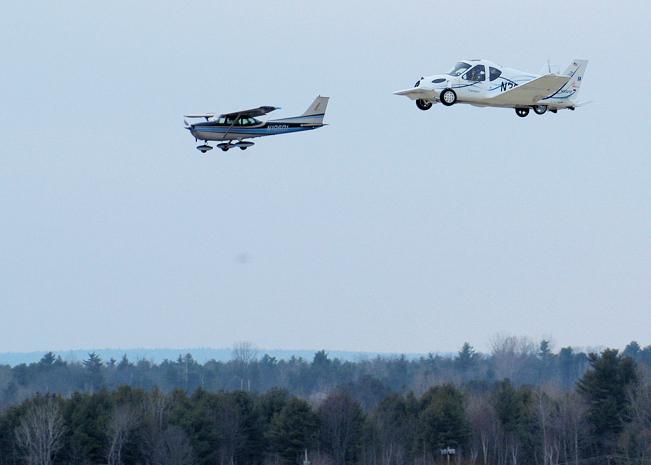 The traffic round here's bloody terrible.
The Transition isn't a proper Jetsons-grade flying car. It can't hover or make vertical takeoffs/landings; it's noisy in flight; it isn't any more able to cope with poor visibility or congested airspace than a normal light aircraft. You can't use it to beat the rush-hour traffic and fly to your office in the city centre.
But the Transition is a successful "roadable aeroplane". It takes off, lands and flies like any other light plane, using small local airfields. On the ground, the pilot can press a button and in 30 seconds the wings fold up. The propellor is disconnected, and the Transition becomes a front-wheel-drive car with typical performance. It runs on unleaded, and will fit into a single-car garage. You only need a US "sport pilot" licence - significantly easier and cheaper to get than a normal private pilot's licence - to fly it.