This article is more than 1 year old
Transition flying car into 'beta test': Deliveries from 2011
In this case 'beta test' = new prototype
"Successful" flight tests, but we're going to redesign it anyway
All this means that a Transition is a lot more useful than a normal light plane. You can get into it at home, drive to your local airfield, fly to another field near where you're going, land and then drive to the very door you want. Normally there'd be a lot more faff with cars, taxis etc at each end of the flight - and a need to find hangar space or a tie-down for the plane at the destination field. Unflyable weather is also a constant hassle for sport and private pilots; but the Transition can always resort to driving on the ground.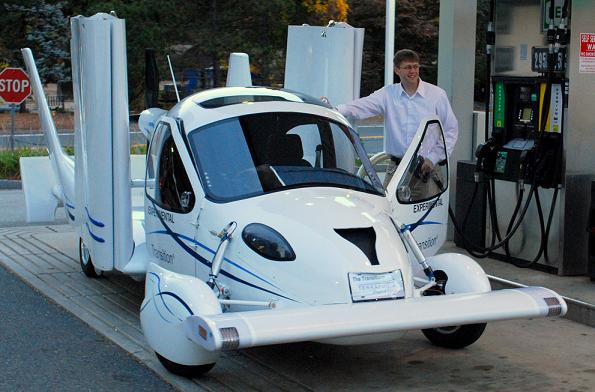 Also you can pick up a packet of Minstrels with your fuel.
So the Transition isn't a miracle hover-car: but it's still a very groovy idea. The design is evidently not ready for production, however, as the decision by Terrafugia to mothball the initial craft after 28 flights and build a new prototype makes clear. If only minor tweaks had been necessary, one might have expected modifications to the existing airframe and further flight trials.
"I would like to keep flying this Proof of Concept vehicle," says test pilot (and retired US airforce colonel) Bill Meteer, "but it makes sense to move on to the Beta Prototype."
The whole process of building the Transition has evidently been tougher than the Terrafugia team - mostly MIT engineers and flying enthusiasts - had hoped. Initial customer deliveries were originally expected this year, a forecast which has now slipped significantly. It's to be hoped that Terrafugia can stay afloat through the next two years before it starts collecting money from customers.
The company says that "with the sustained first flight buzz has come a substantial increase in airframe reservations for the Transition", but unlike some innovative transport companies Terrafugia doesn't spend the reservation deposits. They are held in a third-party account which the company can't touch, so that if Terrafugia goes out of business or can't deliver the promised Transition the customer is guaranteed to get his or her deposit back.
This shows admirable probity, but it does mean that Terrafugia needs to start delivering Transitions as soon as possible. ®