Big Ben celebrates its 150th anniversary this year, and you can now equip your iPhone or iPod touch with a free clock app in commemoration of the big fella's sesquicentennial.
Unfortunately, Big Ben (iTunes link) the iPhone app is decidedly less impressive than Big Ben, the Great Bell in the Great Clock in the equally great Clock Tower of the Palace of Westminster.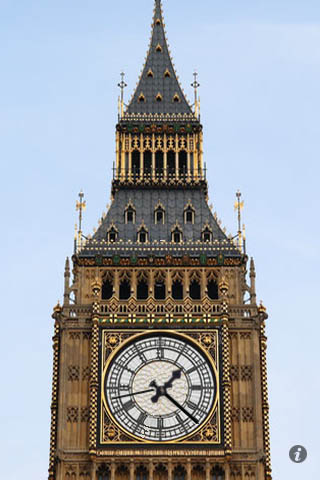 That second hand is an iPhone-only upgrade to the actual Great Clock
The app - like the tower - tells time. And that's about it. You can, however, tap the info icon in the lower right-hand corner to display a dialog that invites you to toggle a tick-tock sound, an hourly chime, and the display of a seconds hand - which the app helpfully tells you is not present on the real Great Clock.
The marketing blurb for the app sums up Big Ben's value quite succinctly: "Pointless? Maybe. Decorative? Certainly. Does it fart on the hour? Most definitely not, sorry." ®