This article is more than 1 year old
Pioneer Kuro KRL-37V LCD TV
LCD with with plasma pretensions
Review Pioneer makes great plasma TVs featuring the deep blacks and impressively high contrast that this technology offers. For years the company's mantra was akin to 'Plasma good, LCD bad'. So it was a surprise last year when Pioneer announced it would be making LCD screens. Like the plasma models, these screens are called Kuro. The word is Japanese for black and the brand is synonymous with high-contrast, high-priced, high-performance screens.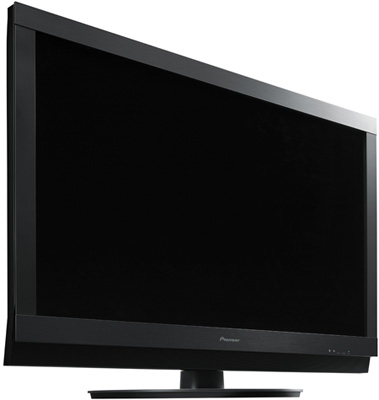 Black is black: Pioneer's Kuro KRL-37V
The thinking behind LCD sets, Pioneer explained, was the opportunity to make smaller screens – a place where plasma cannot easily go. After all, you'd be hard-pressed to find a Pioneer plasma smaller than 50 inches, and not everyone has room for that or its 60in sibling. So, by utilising the high-contrast filter used on its plasma models, Pioneer claims this new Kuro range affords deeper blacks than previously seen on LCDs.
The Kuro KRL-37V is one of the first LCD TVs from Pioneer, with a panel made in conjunction with Sharp. Before we even get to look at the screen, there's a nice-if-tiny detail to enjoy. As you unpack the TV, the screen stand is packed separately in protective foam. You need to assemble this and the cute detail is that Pioneer supplies a long-bladed screwdriver to make this a simple matter. Thoughtful.
Once assembled, the screen looks smart but perhaps not outstanding. Although the brushed aluminium is classy and outguns the ubiquitous high-gloss black plastic of many rivals, its finish may be too subtle to be immediately eye-catching. No big speakers to bulge the frame, thank goodness, but hardly the fetching slimmer bezel of Toshiba's PictureFrame TVs either.
Setup is simple enough – though as you plug in your Sky+ HD box, Blu-ray player and PS3 you'll notice you've just used up all the HDMI sockets. For the price premium this set commands, a fourth socket on the side of the TV would have been expected, but no, three's your lot. Otherwise, the interfacing is standard: component, composite and so on are all here.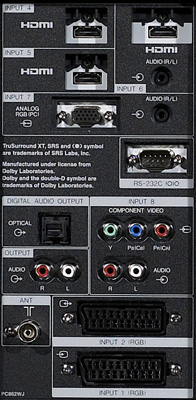 Socket central, but only three HDMI connectors
The satisfyingly heavy, classily built remote control is covered in tiny well-labelled buttons and is enjoyable to use, but here's no backlight, which is a shame. Press the power button and an onscreen menu leaps into view to choose language and locale. TV tuning of digital stations commences – showing a highly detailed display listing every station's frequency – before putting the channels in order.