This article is more than 1 year old
Google Squared - the Cuilest search app ever
Everybody point and laugh
Fail and You Google recently released Google Squared, which is the Mountain View Chocolate Factory's attempt at structured data search. Riding the tails of the Wolfram Alpha launch, Google hopes to convince people that they actually should care about structured search.
Alpha showed us that it's possible to do something interesting, albeit of limited utility, with all of this data. In the spirit of free competition, Google has just showed us that it's possible to act like you're doing something interesting, but really just fail harder than you've ever failed before. Of course, that has nothing to do with structured data search. It's just pretty fuckin' funny to watch.
I am not sure exactly what Google was trying to prove with the launch of Squared, but what is apparent to me is that somebody needs to grab Eric Schmidt by the scruff of his neck and forcibly rub his nose into this product. NO! We do NOT DO THAT on the INTERNET.
Google is hiding this abomination behind the "Google Labs" tag, which I guess is a license to fail. Let's start with the task of figuring out just what the fuck this thing is. It looks like a spreadsheet where you can compare different attributes of search results. Okay, well that's a marginally interesting idea, but let's see how it works.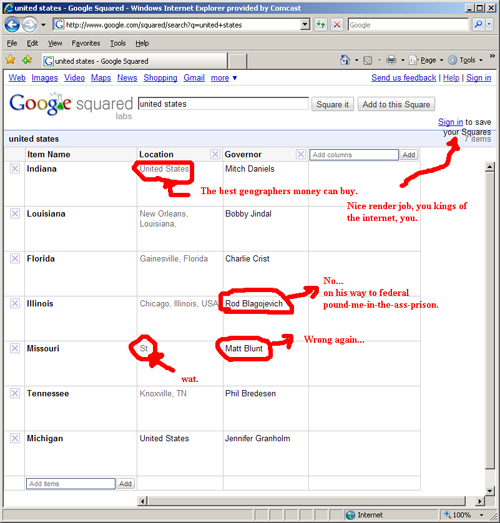 I guess there are several interpretations of the query "united states." I mean I could be looking for information on each of the states. More likely, though, I could be looking for information about the country as a whole. What I am categorically not looking for, though, is a tabular layout of incorrect data. I think Google's relevance engineers were just a little off on that one.
Searching "united states" on Wolfram Alpha, however, yields an eggheaded topical overview of data about the country. Wolfram Alpha runs its algorithms over carefully hand-manicured data. That's a tedious process that sure as hell will not scale to anything useful, but it provides a good result set. Google, on the other hand, is not a fan of anything that can't be automated. I'd be willing to bet that the structured data you see in Google Squared came from some fancy processing of Wikipedia and a few other data sets, in an attempt to teach the machine what the structure is in seemingly unstructured data.
For a company whose engineering staff is still subconsciously conditioned to hastily and without confrontation hand its lunch money over to a high school football player, this sort of problem is a great demonstration of how their pathological hubris has failed. Maybe you guys aren't as smart as you thought you were.
Perhaps I'm missing the point, though. Comparing Wolfram Alpha to Google Squared is a bit like comparing apples to venereal diseases. After playing with Google Squared a little more, it became clear to me that Google did not launch this product as a competitor to Wolfram Alpha.
They launched it as a competitor to Cuil. I think Google realized that while Cuil may fail at just about every query, there is still value in the eyeballs of users looking for a good laugh.