Audio is handled by a built in mic that does a reasonable job of getting what is in front of it. Being in the body of the camera, handling noise is a problem. Hence, Canon provides a stereo 3.5mm jack for you to plug in a powered semi-pro shotgun mic. A mono Røde video mic, was used in tests, proving very up to the job.
Unless you want to go the whole hog and buy an adaptor for XLR mics and ride the audio input, you'll have to rely on the camera's auto levels. Curiously, the stereo audio is recorded at 44.1kHz at 16-bit, when 48kHz is the norm for HD recording – another reason that editing or converting footage may run into difficulties. Certainly, the broadcasting industry is taking an interest, turning this small DSLR into a cinema camera; producing accessories including pull focus, monitors from the HDMI, and different manual lenses – the latter being of considerable importance, until now.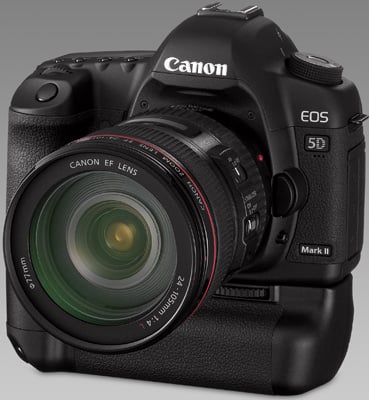 Battery life suffers with HD usage, so a battery pack is an option
When used as an HD video camera, the 5D Mk II gave you little control over the settings with ISO, aperture and even shutter speed being set without much intervention. Various workarounds for the lack of total control included using manual Nikon lenses. However, the release last week of Canon's user-installable firmware update put an end to these cheats, effectively transforming the 5D MkII from a 'let's see what we can get and hope for the best' camera, into a fully manual HD video camera with interchangeable lenses. So, how does it work in practise?
With Live view selected and in 'M' mode only, you have control over the shutter speed, aperture and the ISO rating. The variable shutter speed allows you to stop down on bright subjects/days and continue to capture video with your desired depth of field.
Prior to this update, you could be using great lenses that were automatically set to small apertures around f8 to f16. It was like shooting with a camcorder, because everything was in focus from 0.2m to infinity – and beyond. You just couldn't apply the advantages of a large sensor and big apertures of f2.8/f4, where objects can be sent out of focus – possible even on wide-angle lenses. Now, with manual control of the lens aperture, the one that people were trying to cheat around, this level of creative freedom is possible.
Likewise, for the ISO range – the pseudo film stock variable. This can now be manually set to correct or balance the decisions in shutter and aperture settings. It goes right up to ISO 12800. While perhaps a little noisy at this extreme, if you don't happen to have an on-camera light then, this may save your bacon. It can, effectively, see in the dark, and will keep the shutter up above 1/30th second, so as not to get the ghosting that happens at slower shutter speeds.