Hopefully, these 'fast film' options will not be seen as a great way to shoot all the time and users will light scenes properly, so they can work in the ISO 100-400 range. You can, of course, leave the ISO setting in Auto and let the camera decide what it thinks the scene needs but, of course, we know best, eh?
With these firmware enhancements, the 5D MkII definitely feels like a tool for filmmakers. That said, the frame rate is 30p and is no good for anyone, especially in Europe. Even in America they would prefer 29.97f/s or 24f/s and we would love 25f/s. This is something you can adjust in post-production, or simply live with, especially if your masterpiece will only appear on the web.
To help you frame a 16:9 shot correctly using the 3:2 screen, the video is letterboxed by transparent bands. The footage is beautiful with the shots looking like they are from a proper movie. It conjures up that moment when someone first shows you what good glass, and little depth of field can do for a moving image. The story telling aspect of low depth of field is a powerful tool, and this camera shows it at a fast enough frame rate at 1920x1080 progressively.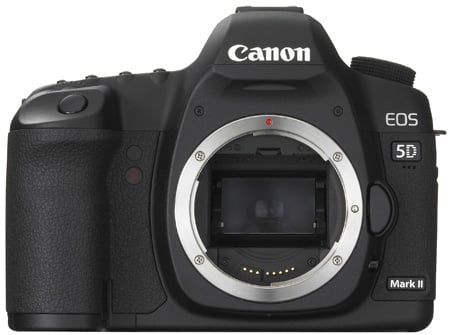 Integrated sensor cleaning takes care of dust during lens changes
Trying it with the supplied 24-105mm F4L lens – which is an amazing range, as these are true focal lengths – you can go between a wide angle view, not available on many camcorders, to beyond a short telephoto, which is perfect for nice head shots. Admittedly, not as fast as the 70-200mm F2.8L, we tried, where it just gets narrower and the focus falloff more pronounced.
We also tried it with the 16-35mm F2.8L Mk2, where you enter a world of the very wide, and boy does it make you want to go film. Focal lengths like that, previously belonged to film directors with big budgets, and even then fisheye lenses were extremely expensive to make, as they're not exactly everyone's cup of tea.