The ISO range is from 100 up to 3200 in auto mode, and up to 6400 in manual mode in 1/3 stop increments. There are also two high-speed settings of 12800 and 25600 set with H1 and H2 and a low speed of ISO 50. The shutter speeds remain the same, from 1/8000sec to 30secs. And the 5D MkII finally gets the integrated sensor cleaning system that the rest of the current EOS range has. It's a welcome feature for anyone using DSLR cameras – when changing lenses, sometimes ten times an hour, dust is never far away.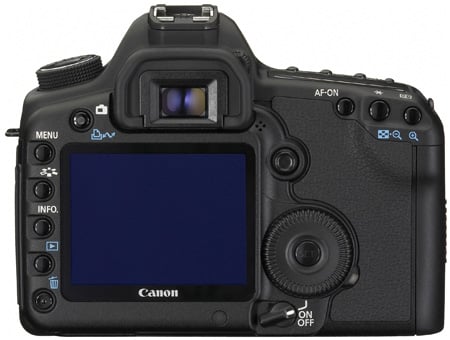 Live View utilises the LCD panel for a direct feed from the sensor
Yet the real star is Live View, this is where you can look at what you are shooting on the large LCD screen, as opposed to in the viewfinder. This appeared to be a gimmick of cheaper systems, until tests were tried with a computer. Here, the software delivers a live feed of what the camera has in front of it. Hook it up using USB, then change the focus, any of the variables – shutter aperture, white balance – take the photo remotely and store the image directly on a hard drive. Wonderful. Alas, this doesn't work with video – movies are only recorded to card.
One quirky change is the capacity to capture RAW images in smaller resolutions. The idea being you can still shoot 16-bit images void of white balance etc., straight off the sensor at 10Mp and 5.2Mp – 50 per cent and 25 per cent of the standard, respectively. It's ideal for people shooting events who can't afford to run out of cards or know they will never need the resolution.
The temptation to record as much as possible is irresistible, but maybe we have reached a ceiling. Surely, 35mm sensors do not need to record any more information than this? You will not notice the difference of any of these RAW formats printed A4 next to each other, so unless you are going to A3 and beyond, why fill up your backup?
The 5D MkII is certainly ideal for studio 'pack-shot' based work where rapid fire is not really the name of the game, as shooting RAW will fill the buffer within 14 consecutive frames. Choose JPEG at maximum resolution instead and you could conceivably continue shooting to fill a 4GB CF card (310 images) at 3.9 frames per second.
Peripheral Illumination Correction is something that fixes the edges with a database of corrections for every EF lens. This is like admitting everything was wrong before, but sure makes you glad you now have it. It's a form of vignetting compensation and has to be activated in the menu. It's automatic in JPEG mode and passes the info on in RAW mode to your DPP software. The 5D MkII also has two colour spaces, sRGB and Adobe RGB, and these settings are primarily for web/printing uses down the line.