Acer has unveiled plans to launch a notebook with a 3D-capable display.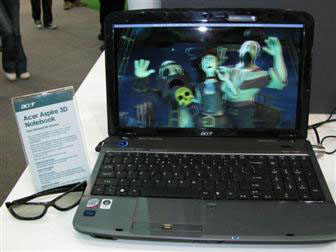 An Acer Aspire with 3D-capable display
Image courtesy DigiTimes
Campbell Kan, Vice President of Acer's mobile computing arm, said the 15.6in notebook will be launched towards the end of October.
Taiwan-based manufacturer Wistron will also play a part in development of the 3D laptop, Digitimes' report noted. Wistron's previously been named as a production partner for a 3D-capable laptop thought to be in development at HP.
Acer has already manufactured a prototype 3D-capable notebook (shown above), but Kan stressed that the firm has some technical issues to overcome before it's able to launch a model that doesn't require users to wear stereoscopic glasses.
The notebook will run Windows 7 and be able to convert regular 2D films into 3D, Acer's exec added. ®
Similar topics