This article is more than 1 year old
Russian porn starlet brands DD jubs
MMO currency firm spunks $500k to ink 'ample canvas'
Simona Halep take note: "Rising" Russian porn star Anna Morgan has offered the "ample canvas" of her DD assets to an MMO virtual currency outfit, and will for two years carry the company's logo and URL tattooed across her heaving jubs in return for a cool $500k.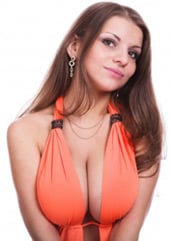 The 19-year-old (pictured) has apparently just signed a multi-year contract with a top Los Angeles grumble flick producer.
Hunter Crowell, of nork sponsor MyMMOShop.com's media relations office, explained that Morgan could appear in as many as 50-100 films per annum, so the company will be getting plenty of bangs for its bucks.
Morgan will present herself for mutilation on 15 June. In case you're wondering just how MyMMOShop reckons this is a good idea, it apparently feels that "the link between porn, the internet, and online gaming is as strong as the pairing of peanut butter and jelly, making this an excellent fit".
In a nice personal touch, the press release notes that Anna likes "tennis, computer games, and hockey". Presumably any sporting ambitions Ms Morgan may have had were thwarted by her now lucrative bust. ®