This article is more than 1 year old
iPhone 3G S in the UK: what you need to know
We unpick O2's small print
Updated Apple's latest iPhone, the 3G S, is currently the talk of the town. But if you're a prospective O2 customer itching to buy the latest model, or an existing iPhone users hoping to upgrade, then you'd be wise to read the small print.
O2 has already confirmed that the 16GB and 32GB iPhone 3G S models will cost pay-as-you-go customers a whopping £440.40 ($711.12/€510.37) and £538.30 ($853.05/€612.24), respectively.
However, internet tethering – a killer 3G S feature allowing the phone to be used like am HSDPA modem – won't be available to PAYG customers. The bolt-on will only be offered to contract customers, priced at either £14.68 per month for a 3GB maximum data transfer allowance, or £29.36 per month for 10GB.
O2's HSDPA network provides 3.6Mb/s downloads across the carrier's 3G network. The faster, 7.2Mb/s speed is being rolled out, initially in major cities.
Call merging and visual voicemail are also not available to PAYG customers, O2 confirmed.
O2's monthly contact costs vary wildly, so we've included the operator's breakdown below. But if you're looking to save a few pennies and grab the 16GB 3G S for free then you'll have to sign up for a £73.41 per month contract for 18 months. The 32GB model's free for the same monthly cost, but based on a lengthier, two-year agreement.

Click for larger view
It's also worth noting that although O2's now canned the 16GB iPhone 3G, you can still buy the 8GB model for the operator's original PAYG price of £342.50 ($553.04/€396.91). The table above shows the contract prices, again unchanged.
Contracts for business customers vary widely too. For example, you can get the 32GB 3G S for £175.19 ($282.88/€203.02) on O2's Small Business Frequent User tariff.
Apple's iPhone 3G S small print also contains some finer points you should be aware of because, despite version 3.0 of the OS set to launch on 17 June, many of the coolest features required hardware only included in the 3G S.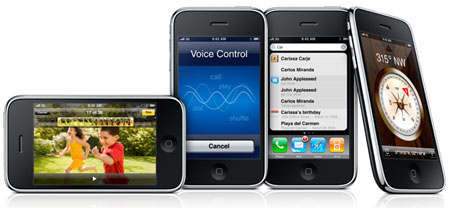 For example, even if you upgrade your existing 8GB 3G to the new operating system, you still won't get the compass, the voice control app, the video capture capable camera or the "improved performance" afforded by the 3G S' faster chippery.
Internet tethering will not be available to owners of the 8GB iPhone.
But many other iPhone 3.0 features - MMS, copy and paste, voice memos and the landscape keyboard in the messaging apps - will work on the old handset, and on new ones, whether they're PAYG or contract handsets.
So, the moral of the story is that if you're looking to get the 3G S, you must be flush with cash, think carefully about contract or PAYG options and – most importantly – drop Register Hardware about your thoughts on the new device.
The iPhone 3G S will be available from O2 on 19 June. Apple's other UK iPhone partner, Carphone Warehouse, will start taking advance orders tomorrow. ®
Update
O2 has since told Register Hardware that existing customers on monthly contracts will be able to upgrade to the iPhone 3G S by "buying out" of their contracts. The cost of this is calculated on a case-by-case basis, but you'll then have to pick from the standard list of monthly 3G S contract options (shown above) before the operator will ship you the device.