Review Would you take a punt on a sub-£50 touchscreen phone? With a wallet-soothing price but few must-have features, Orange's own-brand Vegas plays a very different hand to most high-rolling touch-operated devices currently available.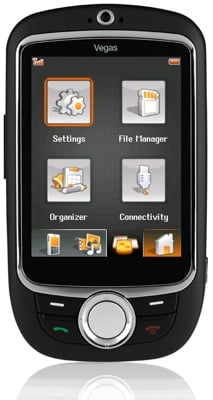 Orange's Vegas: budget touchscreen
There are no iPhone-alike pretensions here, as you might guess from a phone that sells for £49 on pay-as-you-go. Instead, the Vegas goes for a budget-chic approach, with a compact design based around a small, 2.4in, 320 x 240 touchscreen.
All that cash-squeezing is reflected in a modest features rundown. The Vegas covers the essentials for an entry-level handset - music player, FM radio and camera – but offers none of the punch that some might crave in a touchscreen phone. There's no 3G, for instance, and the camera is a low-grade 1.3Mp job.
The Vegas isn't only the cheapest touchscreen phone in town, it's also the smallest and lightest to hit the UK, measuring in at 93 x 53 x 16 and weighing 84g. Bucking the current trend, its compact design – built by Chinese handset maker ZTE – is less like a mini-iPhone and more like a shrunken Windows Mobile device.
Available in either black and edged in chrome, it's attractive enough for a budget phone, and feels solid in-hand. It's also available in pink.
While the Orange Vegas is touchscreen-based, its physical controls offer users an alternative, more conventional way of navigating their way around the phone's functions. For the most part, many of the menus and features can be accessed and operated without having to press at the touchscreen at all – although without a physical numberpad, texting and dialing do depend on on-screen tapping.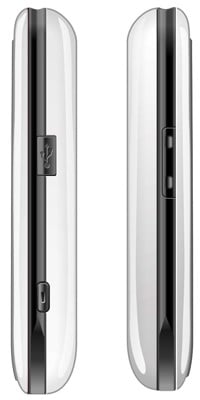 The mini USB port takes the earphones too
There's little in the menu navigation set-up to throw newcomers. The Vegas has its own proprietary OS and UI, which aren't particularly sophisticated or confusing. For long menu lists, like contacts, you can easily scroll down with a finger stroke, or tap in text to search. It's far from iPhone-slick, but it does the job functionally.