Beeb invites net comments from unconnected
No internet? Tell us online!
---
The BBC is currently probing the shocking news that 17 million Britons, or 30 per cent of the population, are currently without an internet connection - and that 43 per cent of those wouldn't poke the interwebs with a sharp stick even if they were given a free PC and broadband.
Fair enough, but what raises this particular piece to a Beeb classic is this form inviting comments: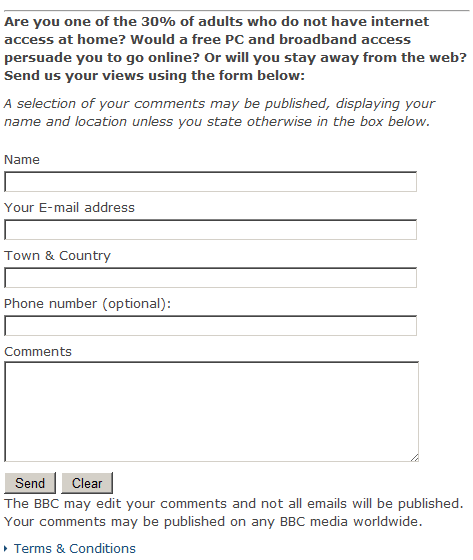 Reg reader Daniel Free notes: "I replied using only the power of my mind", but that doesn't explain what incredible talents he possesses to allow him to ascertain that he was being invited to comment on a story he couldn't read in the first place.
Scientific explanations as to how the "BBC high-speed telepathic news feed" works are welcomed. ®
Bootnote
Before you lot start banging on about "what about internet at work or in a library", here's the Beeb's clarification on the group who want nothing to do with the interwebs: "This so-called self-excluded group tended to be older or retired, with 61% confessing to never having used a computer."
It continues: "For 30% of those currently offline the main reasons given for that choice was financial or lack of skills."
So, nothing to do with just not having a net connection at home.