Network giants reject 'buy American' Obama mandate
Parts are cheap, labor is not
---
Cisco Systems and Alcatel-Lucent want "buy American" provisions stricken from Barack Obama's $7.2bn US stimulus program to expand broadband internet access.
Bloomberg has reported the networking giants have filed complaints with the federal agency overseeing broadband funds, saying a mandate for US parts would be "grossly inefficient" and a "radical departure" from normal markets.
President Obama's economic stimulus package requires projects funded under the law use steel, iron and manufactured goods produced in the US. Exceptions can only be made if the agency involved deems the mandate "inconsistent with the public interest," supplies are "no longer produced in the US in reasonably available quantities and of satisfactory quality," or will increase the overall project by more than 25 per cent.
"We're talking about technologies that are no longer made in the United States," Alcatel-Lucent veep of public affairs John Marinho told Bloomberg.
"The completely globalized supply chain of the broadband equipment sector means that many types of the most important equipment is not produced in the United States," Cisco said in a filing with the US National Telecommunications and Information Administration.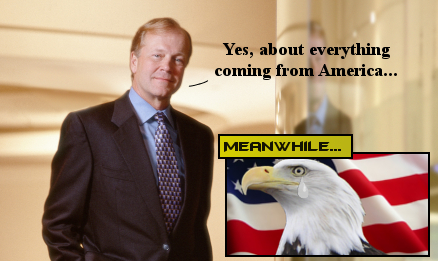 Recreation of Cisco chief John Chambers joining Axis of Evil
Cisco has requested the public interest waiver for a large selection of its telecom equipment, including edge and core routers and switches, IP set-top boxes, WiMax and WiFi equipment, plus hardware and software for security, storage, data center switching, load balancing, and application management.
"Reorienting the global electronics supply chain for this specific program in a short period of time would be both inefficient and expensive," Cisco said in the filing.
In a letter to the US agency over seeing the allocation of funds, Alcatel claims that construction labor makes up the overwhelming majority - from 70 to 90 per cent - of the cost of broadband network rollouts.
"Broadband deployment is an effective way to provide immediate job stimulus for construction workers and technicians regardless of where the equipment came from." Alcatel president Robert Vrij wrote.
Those speaking against Cisco and Alcatel-Lucent getting a "buy American" waiver is Debbie Goldman, Washington DC-based policy director for the Communications Workers of America.
"This is about creating American jobs - not Chinese jobs," Goldman reportedly said. ®